30 Days of Habit Magic: Turning 'I Can't' into 'I Can!'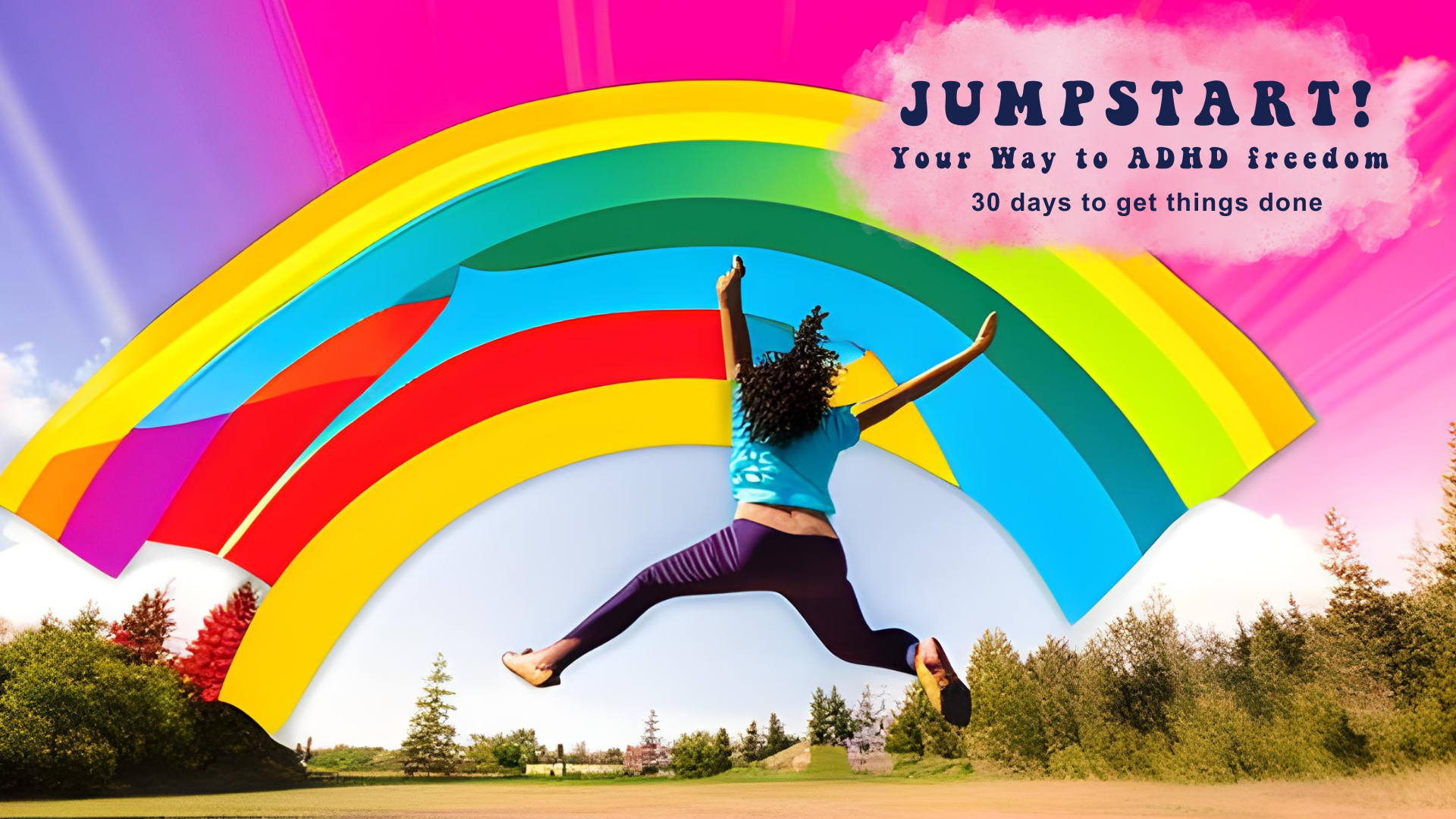 Hey, I totally get where you're coming from. Living with ADHD is like a wild rollercoaster ride, and I've been on that journey too. It can shake things up not just for us but also for our loved ones. Imagine if we had this Jumpstart Program back in the day – life might have been a whole lot smoother, right? But guess what? It's never too late for positive change. Let's team up for an epic 30-day adventure, turning the chaos into pure awesomeness by staying laser focused on creating one new habit. Together, we've got this, and we're going to make it fun! 🚀
You know, it's like when people hire gym trainers even though they "could" work out on their own. Research shows that those who work with trainers are up to 80% more likely to stay consistent. That's exactly what this program is all about! I could charge a fortune for it, but guess what? I won't. Let's make this journey accessible and transformational for all of us with ADHD.
Check out the top seven habits that people often struggle to stay consistent with:
Regular Exercise: Maintaining a consistent workout routine, whether it's going to the gym, jogging, dancing, or practicing yoga.
Healthy Eating: Sticking to a balanced diet and making nutritious food choices consistently.
Sleep Patterns: Achieving consistent and quality sleep, including going to bed and waking up at the same time each day.
Morning Routine: Maintaining a consistent morning routine, including tasks like waking up at the same time, getting dressed, and having a balanced breakfast.
Organization: Keeping both personal and workspaces organized and clutter-free.
Mindfulness and Relaxation: Incorporating regular mindfulness, meditation, or relaxation techniques into daily life to manage stress and improve focus.
Personal Finance: Sticking to a budget, saving consistently, and managing finances effectively.
Ready to break free from the cycle of inconsistency and level up your life? It's time to take action and unleash your potential! Whether it's exercise, healthy eating, time management, or any other habit you're battling with, know that change is possible. You've got the power within you to create a more consistent, balanced, and fulfilling life. 💪 Don't wait for tomorrow; start today. Join a supportive community, seek guidance, or simply take that first step on your own. Remember, every small effort adds up to significant change. Your journey to consistency begins now for the low introductory investment of $97– you've got this!
Picture this: You, confidently striding through life, ready to take charge of that one habit you've been yearning to master. Let's break it down together, step by step, into bite-sized pieces that you can conquer with your unique style. Say goodbye to feeling overwhelmed because I'm here to transform the way you approach consistency with your chosen habit. From nailing punctuality for your daily practice to finding financial balance, planning your morning routine, and even tackling any potential obstacles that come your way, consider me your trusty companion on this journey. I've walked in those shoes – I understand the challenges, believe me. Let's team up and conquer this goal together!
My shopping addiction was out of control, and I needed someone to hold me accountable. The Jump Start Program not only helped me curb my binge shopping, but it also helped me save money for something I'm truly passionate about. I actually saved up to see Phish shows and had extra cash to catch Billy Strings too!

Tess
No more getting lost in the whirlwind of ADHD chaos! Welcome to our Jump Start 30-Day Program, where you'll get the turbocharged boost you need to stay consistent with that one habit that's been eluding you. Picture having your very own Accountability Coach that you communicate with weekly via voice and text messaging right by your side; (me!)-a fellow ADHD champion who's walked this path and knows its twists and turns. Together, we'll uncover your toughest challenges, tap into your incredible hidden strengths, and craft a personalized roadmap that's already paved the way to success for so many. Let's spark your journey toward a triumphant life, because you absolutely deserve it!
The Jump Start Program has completely transformed my life. I went from living in a house of clutter, constantly frustrated and unable to find anything, to having a system that works like magic. It's been a game-changer. Now, I effortlessly stay on top of my organization, and the chaos that once consumed my life is a thing of the past. Thanks to the Jump Start Program, I have reclaimed control, found peace, and can finally enjoy a clutter-free home that reflects the best version of myself. I am forever grateful for this life-changing program.

Kate
We're not about to hand you a generic, cookie-cutter fix cause I know you've been there, tried that, and found out that it didn't work. We're all about the unique, tailor-made approach that speaks to your personal journey. While you conquer the tumult and reclaim your rightful throne, count us in as your biggest fans, your trusted allies, and your ride-or-die companions. After all, you're the reigning King or Queen of the ADHD realm, and you deserve a heaping dose of unadulterated fabulousness. This program will change not only your life, but that of your family too. Let's make this journey legendary together!
With the Jump Start 30-Day Program, for the low introductory price of just $97 you'll receive:
Personalized Habit Plan of Action from Taraleigh: Get ready to dive deep! We'll explore your challenges, set goals, and develop a roadmap to success. Experience unwavering support, guidance, and personalized strategies to keep you on track and accountable.
Weekly Voice/Text Accountability Sessions: Hold yourself to the highest standards with weekly accountability sessions with your personal coach. Stay focused, motivated, and committed as your coach helps you stay on track, overcome obstacles, and celebrate your achievements.
Habit Building Breakdown: Wave goodbye to the overwhelm of establishing a new habit! We'll deconstruct your habit into bite-sized, achievable steps, ensuring your journey is smooth and successful. Experience a sense of clarity, organization, and achievement as you embrace each phase of your habit-building adventure with confidence and ease.
The Jumpstart X Calendar: to prove to yourself that you can be consistent with something for one month and see the proof right before your very eyes.
Rocking Your Habit with Music: Get ready to harness the awesome power of music to make your habit journey smoother! You'll choose a song to be your secret weapon to supercharge your focus, creativity, and motivation. Prepare for a surge in productivity, a lift in your mood, and an increased sense of enjoyment as you groove your way through your daily habit.
Two Group Mindset Sessions: Join a supportive community of like-minded individuals and participate in interactive group mindset sessions. Share experiences, gain fresh perspectives, and receive inspiration from others who truly understand your journey.
30-Day Access to the Jumpstart Group Chat: Stay engaged through our dedicated group chat. Receive ongoing support, encouragement, and motivation from a crew that's always there for you. Expect funny memes, Monday motivational messages, and reminders for Group Mindset Sessions, the recordings to the sessions, and to turn in your weekly "homework".
The Jump Start Program has been a game-changer in my journey of turning my artistic hobby into a business. It has taught me the power of consistent action, allowing me to take small steps towards my goals every day. Unlike before, when I would try to do everything at once and get burnt out, the program has provided me with practical strategies and support to stay focused and make progress. I am now on the path to transforming my passion into a thriving business, and I couldn't be more grateful for the guidance and inspiration the Jump Start Program has provided me.

Suzanne
Time for some real talk. I've been down that same road, and I know how it not only affects you but those close to you. The struggle is real, and I often wish a program like this had been there when I needed it most. But guess what? It's never too late to say goodbye to procrastination. Excuses are out, and it's time to channel your inner boss and take charge of your life!
Picture this: a life where chaos takes a backseat, replaced by self-assurance, the rhythm of music, genuine joy, and endless fun. Together, we're about to free your unstoppable spirit, armed with proven systems, ingenious strategies, unwavering support, and the magic of the right mindset. Let's team up and rock the boat – together, we're the captains of this ship!
So JUMP IN now to get the low introductory price of just $97. Let's kick chaos to the curb and own your new habit!
Your groove awaits. It's time to slay like the badass you were born to be.