Join me on a personal journey to find your entrepreneurial ADHD superpowers to create the business of your dreams.
Become a Rocking Life Entrepreneur!
Who is this for?
This course if for people with ADHD who have a lot of ideas running through their heads that are unique and multi-faceted with many magnificent talents, who want see if entrepreneurism is for them. We've done the research, tried all the things, and compiled everything that worked so they can save a ton of time and energy by not having to figure it out on their own. This course will help those people avoid ADHD paralysis, help them gain clarity on which path to take, figure out how to get started, stay focused, and learn how to be playfully productive so they stay motivated to see this goal through. Wouldn't it be so cool to make reliable money doing what you love that weaves all of your gifts, talents, and passions into one thing. Is that what you've been dreaming about?
Do you…?
Have ADHD?
Stuck because of ADHD paralysis?
Not know where to start?
Overwhelmed with all the ideas swirling in your head with no clue how to weave them together?
Wait until it's the right time to start this dream of yours so you've never started?
Feel like you can't do this because you've tried before and failed?
Get super excited about something, work on it really hard at first and then lose steam and jump ship?
Feel trapped in a dead-end job or hate working for someone who doesn't appreciate you and your unique gifts and talents?
Want the freedom of making your schedule and working when YOU feel like it the way you want to do it?
Know you want to be your own boss but don't have the confidence or knowledge yet to do something about it?
Lack the focus or drive to start your own business and just need someone to cheer you on?
Have a job and want to start building a business at the same time?
---
Do you want…?
To figure out how to weave all your passions into one exciting business
To know everything Taraleigh knows about business and life so you can apply it to your own
Learn how to use your ADHD as your entrepreneurial super power
To feel confident in what you're doing
To make money doing what you love
Learn how to do business your own way working with your unique energetic cycles
The ability to make your own schedule
To work from anywhere with a wi-fi connection like a pool or a couch
Easy to implement done-for-you-systems for your business
Learn how to be playfully productive so you have fun in the process
---
Join like-minded peeps that have the same goal as you and become a Rocking Life Entrepreneur!
What's included:
Bi-weekly group mindset calls with Taraleigh and Experts. Fun, Inspirational, & Interactive.
Bi-weekly open office hours with a Rocking Life Entrepreneur Coach.
One-on-one kick off call with Taraleigh to get you super focused and on track for success in the program.
Option to appear on an episode of Taraleigh's podcast Groove Therapy talking about your business.
Option to go on Instagram LIVE with Taraleigh in front of her 25k+ audience.
Private exclusive virtual space for you to get support 24/7
Workbook with journal prompts to give you focus to achieve your goals
10 modules with videos, classes, and assignments
Option to upgrade at a discounted rate for personalized one-on-one accountability coaching and coaching/consultations with Taraleigh and Katie
Setlist for Success: The Course>The Community>The Coaching>Success!
Set 1: The Course (Go Your Own Way)
Interactive online course format with short lessons to keep your attention
Choose the pace that's right for you. Antelope (3 months) Llama (6 months) Slow Llama (9 months) or Sloth (12 months)
10 amazing Modules where we will help you to simplify your life, tap into your unique gifts, and get clear on how to build your dream business…where you have the freedom to live life how you want.

Module 1: Make Space for your Biz
Module 2: How to Use ADHD as Your Entrepreneurial Superpower
Module 3: Identify Your Why
Module 4: Getting to Know Your Customers/Clients
Module 5: Vibe High in Your Biz
Module 6: Rock Your Social Media

Module 7: Create Your Money Makin' Offer
Module 8: Finding Customers and Clients
Module 9: Magical Selling Guide
Module 10: Boring Business Bites
Set 2: The Rocking Life Entrepreneur Community
Private online community only for Rocking Life Entrepreneurs
Fun interactive virtual get-togethers
Encore: The Coaching
Bi-weekly group open office hours with a Rocking Life Entrepreneur Coach
Bi-weekly group calls with Taraleigh and friends focused on mindset and clearing your blocks.
Access to private message board to ask all your burning questions
Bonuses:
Lifetime access to the content
Done-For-You Templates

Crafting the perfect invitation emails and social media posts
Vault of social media posts to use
Market research scripts
Trillion Dollar sales scripts

Tech Trainings

Social media automation
How to use ADHD to bulk create social media content
Newsletter integration
Creating a basic logo and branding for your business
And more!
It's all happening!!!
The Investment is ONLY $997.
Want to make sure you stay on track and start that biz?
Add Accountability Coaching for $197/month. Get 1 month free when you sign up for a year commitment.
Add 3 Voxer voice or text messages a week with your coach for $97/month. Get 1 month free when you sign up for a year commitment.
Add Accountability Coaching and Voxer Support for $297/month. Get 1 month free when you sign up for a year commitment.
Contact me for this Add-on!
What is Voxer? It's a voice messaging app that allows users to send and receive voice messages in real-time and can provide several benefits:
Convenience: Voxer allows for real-time communication, so you can reach out to your coach whenever you need support or guidance, rather than having to wait for a scheduled call or meeting.
Flexibility: You can listen to your coach's messages at your own pace, rather than having to be available at a specific time for a call or meeting.
Personalization: You can send your coach specific updates, questions or concerns, which can help your coach tailor their support and advice to your unique needs.
Record-keeping: all the messages are stored for future references, which can be helpful for you to refer back to the guidance and advice provided by their coach.
But is it really worth it?
The Rocking Life Entrepreneur Course with Systems……$5555 value
Bi-Weekly Mindset Calls…………………………………….$2600 value
Tech Trainings from Katie……………………………………$397 value
Done-For-You Templates……………………………………$297 value
Sales Scripts……………………………………………………$100 value
Open office hours…………………………………………… $2997 value
One-on-One Session with Taraleigh……………………….$125 value
Online community……………………………………………$1197 value
Rocking Life Instagram Takeover. and podcast guest……Priceless
Valued over $16,000!!!
$1997 For you- JUST $997!
You will have access to the Rocking Life Entrepreneur course with all it's perks for 1 year. If you'd like to add Accountability and/or Voxer support, we'll talk about that during your intro session 🙂
About your host: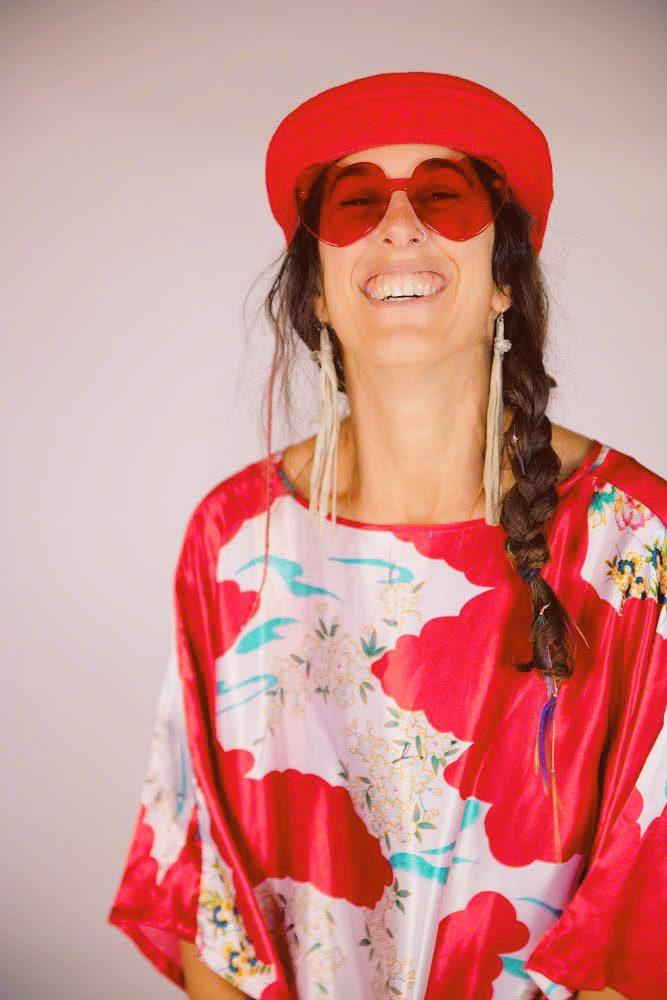 Taraleigh Weathers wants to live in a world with lots of live music where people are celebrated for their uniqueness.
Before becoming a premiere coach in her field, she had a successful dance career as a cheerleader for the NBA. Since retiring and becoming a coach and retreat facilitator in 2006, she's been flown out to Vegas by Zappos to cover the Life is Beautiful Festival, hired by the Institute for Integrative Nutrition to coach new students in business, featured in Live for Live Music, Relix Magazine, Huffington Post, Helping Friendly Pod, No Simple Road Podcast, and MindBodyGreen. She's been a speaker/teacher at festivals such as Hulaween, Grand Point North, and Tumbledown Festival. Her book How to Rock Your Life has been called the best book in the entire Universe by a few people on the internet. She's hosted over 20 retreats in the US and abroad.
She also co-hosts the top female hosted podcast on the Osiris network called Groove Therapy where musicians and health and wellness experts discuss how to live your best life every day and what happens in our minds and bodies during live music. How can it help us to heal and grow?
When she's not inspiring people to make everyday life more fun and fulfilling, you can find her at a festival dancing like a wild woman.
---
What is it like to work with Taraleigh?
"Taraleigh's Rocking Life program really helped me to get out of my own way and to just get started. I knew more than anything that I wanted to be in business for myself, but needed to find clarity on what that looked like. After going through the lessons and exercises, I decided to first explore selling magical sparkly clothes. Through doing the work I learned that selling physical products online wasn't for me. So after getting clear on what I DIDN'T want, I realized that my superpowers are in helping people find connection (to themselves and to each other), living with more happiness and joy. I now work as a Habit Rehab coach and love my work so much, helping people start to rock their own lives in ways that are EASY and FUN. I am so grateful to Taraleigh for giving me the tools and courage to take this journey and for ALWAYS being my biggest cheerleader. Without her, I wouldn't have found myself doing what I love, making an impact on the world and creating life on my own terms.
I love working with Taraleigh because she holds such a safe space and encouraged me to incorporate my love of live music into my business. It's such a gift to work with a coach who "really gets me". I highly recommend the Rocking Life program to anyone who knows that it's finally time to become an entrepreneur, especially those who aren't quite sure yet what that looks like. Taraleigh is a skilled guide and will support you for each step of the journey." ~Kathryn Wilkins
"I went from feeling like I was incapable of ever feeling at peace inside, to thinking that it was possible, but would probably take a really long time, to realizing I better make it happen immediately after watching a small bunch of people close to me die very young. When you have that fire under your ass, other people who have that same fire stick out to you. We might as well have our foreheads painted with some distinguishing mark. By the way, if you haven't met her yet, Taraleigh has a huge sequined, sparkly mark on her forehead. Actually it's probably a full blown headdress. You can't miss her." ~Oteil Burbridge
"T's special powers lie in opening people up to their potential. She has this magical ability, I still don't quite understand it, to provide the specific space that people need to have their own personal breakthroughs, whatever they may be. She's encouraging and inspirational. She allows. ~Ryan Montbleau
"Before working with Taraleigh, I felt like I was too weird and not good enough to make a difference in my own life or anyone else's. After working with Taraleigh, I realized that the only way I could learn to use the tools was to believe in myself and experiment with them. I needed to take chances." ~Lauren M.
Working with you shifted my perspective and helped me realize we all have magic inside us and that I'm not too old to go after, experience & do ALL the things. My time hasn't past and playing small serves nobody. I'd say that if you're wanting to experience life with more joy & authenticity then Taraleigh will help pull the magic out of you while helping you navigate what it is you desire for your business/life and believe it is all possible. Also, if music & dance is your thing than there's no one better to shake things up with & literally ROCK your life! ~Kate B.
"I assure you that you will walk away with a better sense of self & direction. Taraleigh has an incredible ability to help you find your inner strength." ~Dawn J.
"My life has forever changed since I met you🤟 my music is better I can love more and be a better person" ~ Austin R
---
What does it feel like to be a Rocking Life Entrepreneur?
Some of the changes you'll notice are:
You'll stop struggling with ADHD and you'll start thriving instead
You'll feel more focused and motivated because you'll find clarity.
You'll shift your perspective from I can't to I can.
You'll feel like you can do it.
You'll feel confident.
You'll feel successful.
You'll feel seen for how amazing you are.
You'll feel excited to work with your clients/customers everyday.
You'll feel focused.
You'll feel ready to make your dreams come true.
So what are you waiting for? Are you ready to start a business now and become a Rocking Life Entrepreneur?
---
If you have any questions or aren't ready to take the leap quite yet send me an email at Taraleigh@rockinglife.com.
I'm here for you!