I love live music so much because I easily feel expressed, joyful, present, authentically me, connected, and loved. One of the keys to living a full and happy life after the show ends is to identify the way you feel during the experience because once you identify that, you can come up with ways to feel those feelings on the daily.
Here are some examples that show what I mean:
To feel expressed you can write in your journal, tell someone you love them, or wear something that expresses who you are.
To feel joyful listen to your favorite show while getting your kids ready for their day. Dance while you cook. Sing in the shower.
To feel present meditate or take three deep breaths with your hands on your heart.
To feel authentic try to be yourself in everything you do.
To feel connected reach out to a friend, get out in nature, put your bare feet on the earth.
The more you are intentional with the way you infuse those incredible feelings into your daily life as a practice, the more normal it will be. Feeling expressed, joyful, present, authentic, connected, and loved will be second nature and not feel forced.
That's the good stuff that makes every day worth living.
✨How do you feel at a show and what's one thing you can do to cultivate that feeling today?✨
Share ⬇️
Here's a video of me feeling all of those feels at Phish Riveria Maya.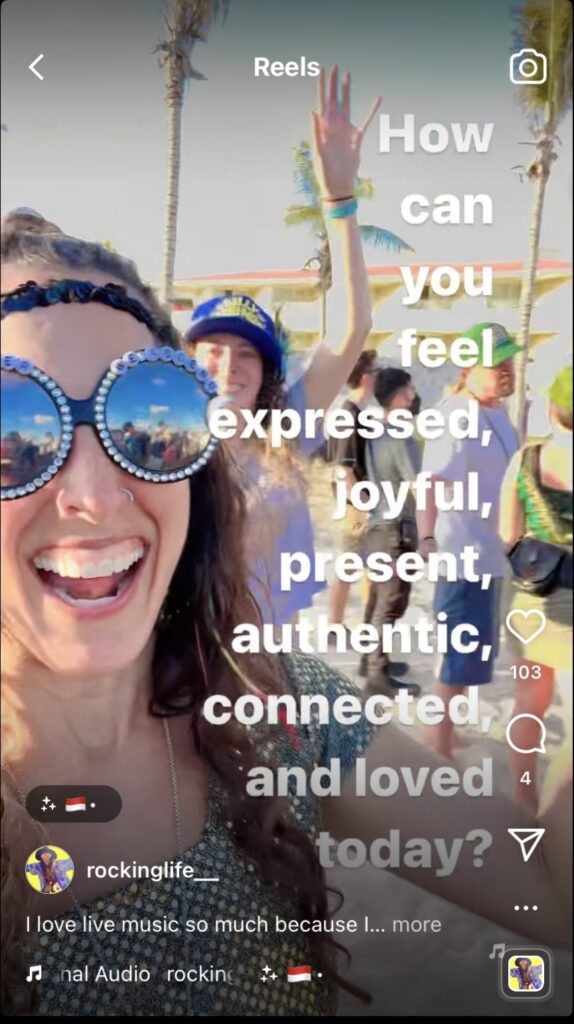 Love you so much 💓