I met Joel after become friends with his wife Dasha when I was working on the activities team on Jam Cruise. She is a badass goddess woman and watching her and Joel blossom into the beautiful family they are today has been a lovely thing to witness. Joel and I got to know each other better when he would come to Burlington, VT with his band Umphrey's McGee. I would bring him to yoga classes and he'd join me and Dan at some of the best breakfast places in BTV (Hello Penny Cluse). If you aren't familiar with Umphrey's here is one of my favorite songs that Joel put together.
Joel does a lot of things and one thing he did was write a book. He and Matt DeCoursey wrote a best selling book called The Realist's Guide to a Successful Music Career.
So you want to be a rock star. Or the next pop sensation. Or a country music artist. Or perhaps you're more intrigued by vital roles behind the scenes. The Realist's Guide to a Successful Music Career reveals all the ins and outs of building a viable career in today's ever-changing music business. With blunt honesty paired with expert insight and encouragement, this empathetic guide covers everything from building your brand and expanding outreach, to finding and playing gigs and smart touring, to critical marketing and developing your sound. Packed with practical, real-life guidance and avoidable missteps, the book vicariously takes you both onstage and backstage, into the recording studio, and on the road. And because experience is the best education, The Realist's Guide to a Successful Music Career contains exclusive interviews and wisdom from a wide range of all-stars and music insiders, including:
Huey Lewis
Susan Tedeschi
Chuck Leavell
Victor Wooten
Taylor Hicks
Ivan Neville
Jake Cinninger
Nikki Glaspie
Pete Shapiro
Alicia Karlin
Vince Iwinski
Kevin Browning
Syd Schwartz
Chris Gelbuda
Robbie Williams
Whether you're a seasoned pro looking to grow or an emerging talent looking to break out, The Realist's Guide to a Successful Music Career is the right note mentorship you need to take your gifts and passion to the next level.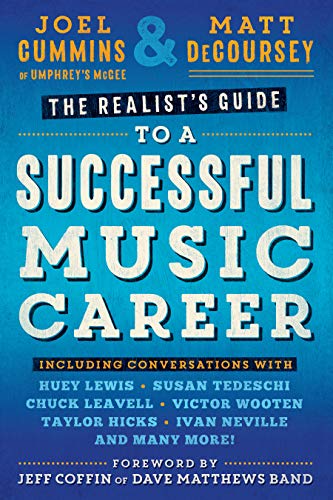 Get your copy HERE
Joel is also on Lively where you can virtually hang with him, experience a private concert, take one on one music lessons with him (beginner or advanced music theory, listening comprehension, and piano lessons. Book something with him HERE.
Joel was our very first guest on the Groove Therapy Podcast. Taraleigh and Leah chat with musician Joel Cummins of Umphrey's McGee. Joel talks about what he loves most about the live music experience and what he is doing to keep himself healthy and sane during times of COVID and quarantine. He also lets listeners in on his inspiration for getting into Rock n' Roll and joining Umphrey's McGee. Throughout the episode, the three dive into the experience of deep connection that occurs during live music. Leah provides the science that explains how social bonds are strengthened and Taraleigh leaves listeners with a tip on how to find that deep connection any time.
Finally if you want to experience some Joel magic, you can hire him on Cameo to send a special message or song to a friend. I love Cameo. I used it to have Keller Williams write a special song for the Rocking Life Entrepreneur Mentorship and they loved it so much. There's nothing like a personal song coming from your favorite musician. You can book with Joel HERE.
Have someone who's inspiring you right now. Share with me in the comments so I can be inspired too. Thank you!
OK love you byeeeee!