As a supporter of live music it's important that we do whatever we can to make our scene the best it can be. That's why I feel so strongly about each of the organizations I'm about to share with you. They all make our scene better and they could use your support.
I am proudly one of the newest board members of Accessible Festivals. Accessible Festivals is dedicated to making live music and recreational events fully accessible for people of all abilities. By educating the public and bringing together like-minded organizations, we can end the stigmatization involved with having a disability so that everyone can have the opportunity to have amazing experiences, regardless of ability.
This year on Giving Tuesday, every dollar raised will support our ticket gift program! Free festival tickets will be granted to disabled individuals in need to attend their favorite festivals countrywide including Inclusion Festival (which I will be presenting at). Donate to the ticket gifting program HERE. Donate to Accessible Festivals HERE.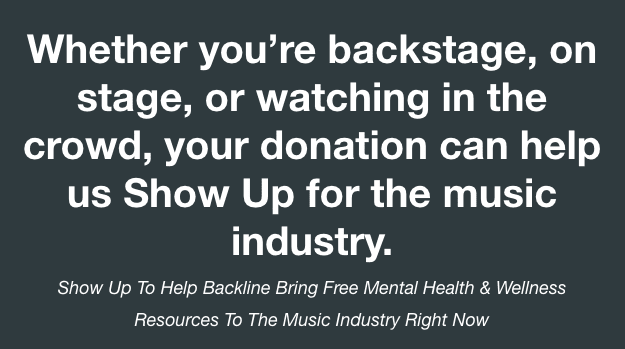 Backline is a 501(c)(3) non-profit that connects music industry professionals and their families with mental health and wellness resources. We want to build a safer and more supportive music industry by helping our community access quality mental health care providers that understand this line of work. A reported 73% of independent music makers have said they have experienced negative emotions such as stress, anxiety, and/or depression in relation to their music creation. Nearly half of the music industry doesn't have health insurance and more than half make less than the average national wage. Finding mental health resources can be overwhelming and time consuming. Sometimes the hardest part is getting started.
Donate to Backline HERE.
GrooveSafe is an initiative to stop unwanted touching and sexual assault at concerts. The mission of this nonprofit is to create a no tolerance environment with an emphasis on building a consent culture.  Our initial goal at GrooveSafe is to be present in the live music scene across all genres.  This movement brings awareness to sexual misconduct and teaches that a change in behavior starts with a recognition of the problem. 
You can check out GrooveSafe HERE. If you know you'd like to donate to their mission, you can do that by sending money on paypal or venmo to groovesafe.
Thank you for being such a good human.
Love you so much!!!