Cooking is one way that I like to express myself. I'm not a fancy cook and I'm actually kind of lazy about it. In the past, I hated cooking because I always found it to be so time-consuming and difficult. Once I kinda-sorta-started following simple recipes, I felt more confident, and I started to get more and more creative in the kitchen.

One thing that helped me bring my cooking to the next level was mixing it up to music. I curate different soundtracks for different purposes and now my cooking is smokin'. Since cooking was something that made me nervous, it felt edgy to me to try new things in the kitchen. The songs I chose made me feel safe which subconsciously allowed me to be more adventurous and brave with my creations.
Now when I cook I feel confident, free, and a little wild!
Here's my Smokin' Hot Kitchen Soundtrack
Recipe: Easy Veggie Miso Ramen (Adapted from halfbakedharvest.com)
Prep time: 10 minutes Cook time: 30 minutes Servings: 4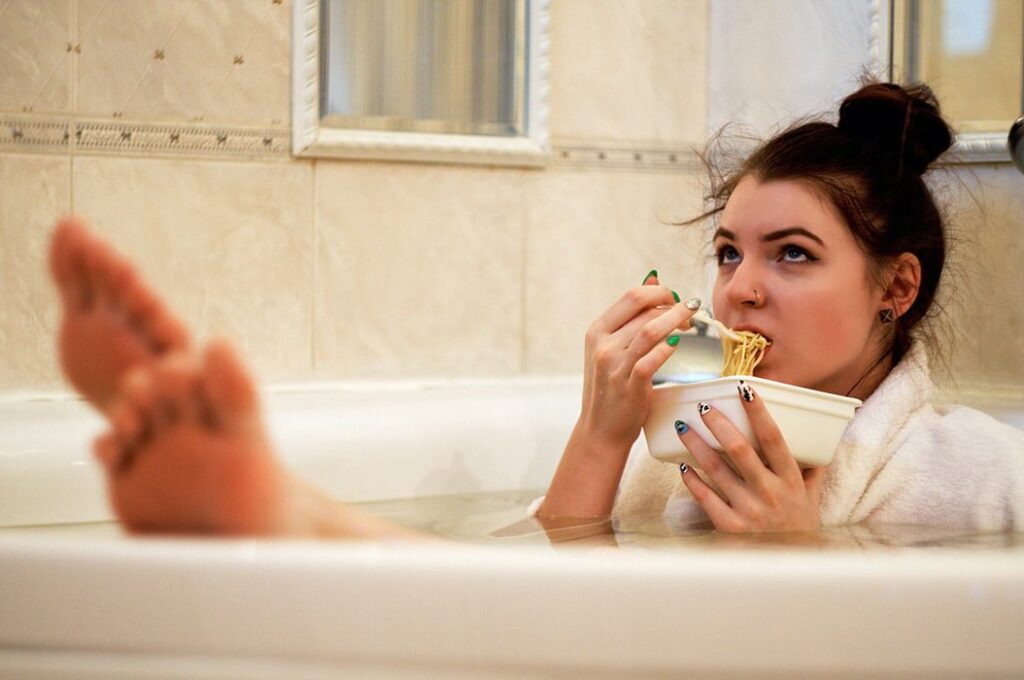 Ingredients:
6 cups veggie broth
1/4 cup soy sauce or coconut aminos
2 tbsp rice vinegar
1/4 cup nut or seed butter (sunflower, almond, tahini)
1 inch of fresh grated ginger
2 cloves of chopped garlic
2 patties of ramen noodles (I used brown rice noodles)
4 cups of shredded greens (spinach, kale, chard)
4 tbsp oil (coconut, avocado, olive)
2 lbs of mushrooms (oyster, shitake, crimini, white, magic) Just kidding on the last one! 😉
2 small onions
Optional scallions and cilantro for garnish
Instructions:
Put on the Smokin' Hot Kitchen Soundtrack
In a large soup pot, combine broth, 2 cups of water, soy sauce or coconut aminos, vinegar, nut or seed butter, mushrooms and miso. Bring to a boil and then let simmer covered for 20 minutes.
Saute ginger, garlic, and onion until translucent. About 5 minutes. Add to pot.
Bring soup back up to a boil. Add noodles and greens.
Let simmer for 10 minutes or more minutes. (The longer you let it simmer, the more flavorful it will be. This soup also makes for amazing leftovers).
Ladle into bowls.
Serve
Take three deep breaths and say at least one thing that you're grateful for out loud.
Eat and be merry!
What songs would be on your Smokin' Hot Kitchen Soundtrack? Leave a comment below with your song. Share this post with someone who loves soup. Love you!
Taraleigh