Rocking Life ONLINE a membership program for people who would like to use their passion for live music to cultivate a healthy mind, body and soul. If you'd like to be a part of that, get yourself on the free wait list right HERE

Here's a sample of the kinds of classes you'll receive as a member of Rocking Life ONLINE. I'll show you how to throw your very own festival from the comfort of your home. Watch the video:
It's important to name the feelings you feel when you're at a show so you can find practical ways to infuse them into your daily routines. For this exercise, we're going to use mine. Try mine out for size and then feel free to make up your own words and adapt your festival to evolve around them.
My festival feelings are expressed, present and joyful.
My festival is called the Rocking Life Fest. You can name yours whatever you'd like because it's YOUR FESTIVAL. Yay!
In order to throw a successful festival, you'd gotta have an epic line-up. You don't have a budget to stay in so you can pick whoever you want and have as many bands on the roster as you'd like.

My dream festival line-up would include Phish, Stevie Wonder, Ryan Montbleau, Moe., Bruno Mars, a showcase of Broadway songs sung by broadways stars, a cover band that did Disney songs, Paul Simon, Twiddle, String Cheese Incident, Keller Williams, Cory Wong, Dead & Company, JRAD, Ghost Light, Ed Sheeren, The California Honeydrops, Lake Street Dive, Dwight and Nicole, Lucius, Trevor Hall, Rising Appalacia, Billy Joel, Elton John, West End Blend, Roots of Creation, Hayley Jane and the Primates, Nina's Brew, Zach Deputy, Wright, all of Bob Wagner's bands, Beyonce, Madonna, Cindy Lauper, New Kids on the Block, Weird Al Yankovick, Marco Benevento, Hall and Oates, Umphrey's McGee, and Taylor Swift.

The first live music feel we're going to cultivate is joy and we're going to do it by dancing. Choose a band from your line-up and get your groove on. If you've got the time, keep dancing!
Next it's time to infuse the next festival feeling which is feeling present. The way I get myself to arrive in the here and now is by meditating. Refer back to the sample video I posted a few days ago, where I taught you how to meditate. My favorite way to meditate is to sit in silence for at least one minute. Listening to guided meditations is something I like to do too.
All members of Rocking Life ONLINE will be receiving monthly guided meditations made for live music fans to use. Yay!
The final festival feeling left to bring forth into your day is expressed. There are many ways to go about this one. Sometimes my festival involves journaling and I express all of my feelings by writing them down on paper. Other times, I'll email or write a letter by hand to someone I love and express what they mean to me. Another way I do this is by going into my closet and finding at least one article of clothing or accessory that I can wear to express myself. This article can be on the outside or hidden under your clothes
The Rocking Life Festival lasts anywhere from ten minutes to an hour depending on the amount of time I have, but let me tell you, when I don't have a festival, I feel it and not in a good way.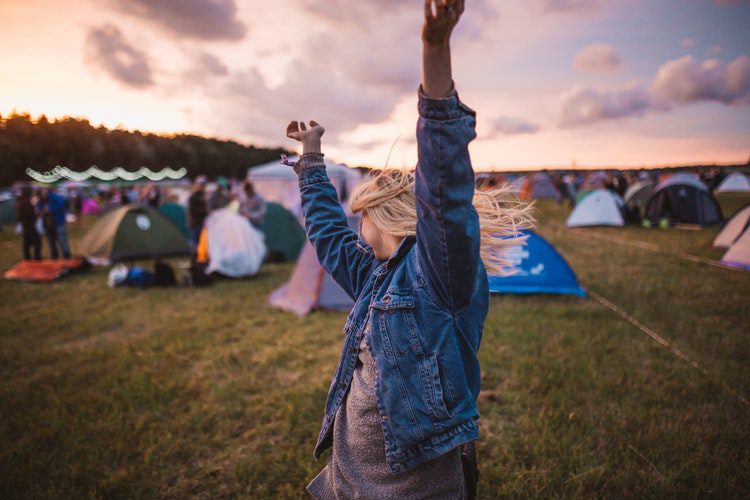 Have fun festivaling!!!! Leave a comment and let me know what your festival is going to look like tomorrow.
This is a sample of the types of types of classes you'll be receiving as a member of Rocking Life ONLINE which is a membership program for those who'd like to use the momentum of their live music passion to cultivate a healthy mind, body and soul.
If you're not already on the Rocking Life ONLINE wait list follow THIS.
The magic in me sees and bows to the magic in you,