Yay! The Conscious Party Challenge has started and today is the first day. I'm so happy you're here and committing to making some small changes that are sure to have a huge impact on you and the planet. The time between the holiday season and NYE may feel like a crazy time to attempt to embark on such an adventure, but it's also the perfect time. Creating new healthy habits is hard, so do your best. If you mess up, it's ok. Hop back onto your unicorn or narwhal and keep on keepin on. I'm so excited for the possibility of you waking up on January 1st feelin fine! 

If you're not following me on Instagram @ rockinglife__ yet, make sure you are!

Conscious Party Challenge Day One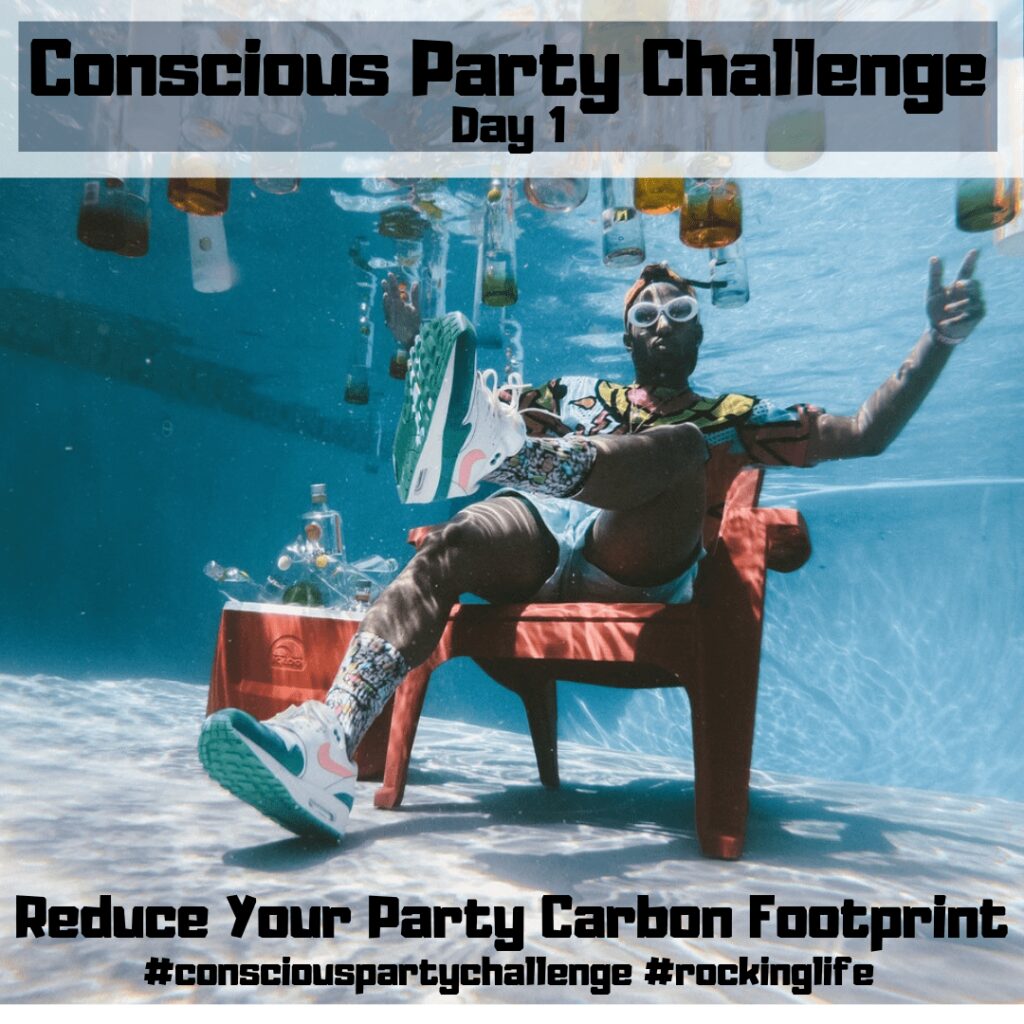 Reduce your party carbon footprint. 


The choices that you make at the party can have some serious environmental impacts and there are some small ways that you can make a difference. When you make a choice, that choice has impact on it's own, but then when someone sees what you're doing or you share what you're up to, you may inspire them too. And then they inspire another person. And those people inspire even more people. Your one small change can create a ripple of change and before you know it, big shifts start to happen. Woo!

Single use plastics are a big problem. Here's what you can do:
Bring your own reusable straw to the party, bar, club, coffee shop or restaurant. If you forget or don't have one, ask that you are aren't given a straw in your drink.
Take along your own reusable cup. Depending on where you live and what the health codes are, you may not be allowed to do this. Try to use your own cup and if you can't, reuse the one you are given as long as you can. If you are in a venue that doesn't recycle, take your cup home with you to recycle.
Pack your own reusable grocery bags when purchasing party supplies (and all the time).

Capture a photo what you did to save some plastic from ending up in our oceans, share on social media, use the hashtags #consciouspartychallenge and #rockinglife and tag me on Instagram @rockinglife__

Bonus: Make an insta-story about what you did and tag me @rockinglife__

Everyone who completes this challenge will be entered to win a signed copy of my book, How to Rock Your Life: Maintain the Magic of Live Music in Your Everyday Experience and free memberships to Rocking Life ONLINE. If you complete the bonus, you'll receive an extra entry to this contest. 

Rocking Life ONLINE is a membership program for people who want to use the momentum of their live music passion to propel themselves into the healthy lifestyle they desire. More info coming soon! 

Have fun saving the planet one conscious party choice at a time.

See you tomorrow!
The music lover in me sees and bows to the music lover in you,