Duane Allman of the Allman Brother's Band was a reader, a thinker and a mindful person. Around the time of his death, he was reading a lot of T. S. Eliot. He said that every time he was in Georgia, he'd eat a peach for peace which likely inspired the title of their album Eat a Peach.
Maybe it was a reference to Eliot's poem "The Love Song of J. Alfred Prufrock?" The line reads, "Shall I part my hair behind? Do I dare to eat a peach?" In this context, the peach becomes a metaphor for life. It's something one must experience before growing old.
One of those things that I felt I must experience before I grow old was to travel to Mexico for Dias De Los Muertos (Day of the Dead). I didn't know when or how it would happen, but for some reason I knew it would. A woman named Sharon was looking for writers to come on her tour to experience just the thing I'd been aching to do when someone tagged me in the post. Immediately, I sent a private message to Sharon letting her know that I was interested. I went on to say that I'm kinda weird and I write from a unique and interesting perspective.
Sharon runs a tour company with her husband Tom and guess what it's called; Eat the Peach Travel.
I knew I was supposed to go, but Sharon said no to my proposal. Guess where I found out that she had changed her mind and wanted to invite me to come with her to San Miguel Allende, Mexico?
The Peach Music Festival!
Twas no accident that she happened to call me while I was there. Magic is normal and I'm so grateful.
Eat the Peach Travel specializes in organizing group tours for people where they take care of all the details for them. There are many tour companies that offer such a thing, but the biggest difference is that other tours don't come with a Sharon and a Tom. Here they are!
Have you ever met someone who is so full of life, wonderfully weird, unapologetically themselves at all times, fun, wild, nurturing, motivated, brave and loving? I have and her name is Sharon. Paired with her serious, stoic and kind husband Tom, this team will make all your travel dreams come true. They made mine come true. Here's a video of me and my travel dreams coming true as I danced all around San Miguel Allende. Can you find Sharon and Tom dressed up for Day of the Dead?

You'll love hanging out with them and the other fellow travelers they attract. Benefiting from the fact that no one can say no to Sharon, means you'll get to do stuff other travelers don't, because she makes it her mission to make magic happen for you.
Our first night there was so special. Sharon and Tom threw a welcome party for us at a dive bar with one of the best views of the city at sunset. Before I even met everyone who was touring with us for the week, I had a Mezcalrita in my hand. Sharon invited two musicians named Carol and Daniel of Bone Orchard from Taos, New Mexico to join us all for the week which resulted in private shows just for us. It was so special!
The next day, Sharon set up a talk with local artist Tomas Joaquin Burkey Marambio. What I was most inspired by was how aware he was of his lightworker magic and how art is just one of the ways he heals people and likely himself.
"Artists here in San Miguel are like shamans or medicine men. They are healing and facilitate transformation. This is what I want to see on the planet and why I create beautiful things. Be in love. Just do that and it will affect your surroundings."
He is responsible for building a huge pyramid of Nichos which honors those who have passed. I found it so interesting to hear all about the local art scene from Tomas. We were asked to bring photos of our loved ones who have passed to put into a Nicho that would be displayed in the pyramid.
Nichos can be constructed of humble materials: wood, tin, glass, and even cigar boxes. They are typically very colorful and have a lot of decorations on them which can range from simple paint or paper, through more complicated renditions to include milagros, glitter and sequins. Here's the one Sharon made for our group.
I didn't know much about this trip before coming here because I simply trusted Sharon and Tom. I mean, I never met them before and I was traveling to a foreign country alone without really even knowing exactly where I was going.
We went on so many cool adventures. One evening we rode around town at night on horseback while stopping at a few saloons for shots of tequila. We ended the evening eating a world famous street taco that cost less than $1. The owner of El Restaurante (one of the best restaurants in San Miguel) was eating there if that tells you anything.
Wine is the answer. What was the question again? I can't remember because…wine, but what I do know is that the best wines are the ones we drink with friends.
Piling in a van, we excitedly were driven out of town to the Cuna De Tierra Vineyard where all kinds of magic ensued. Did you know that the area near San Miguel is prime for wine making? The spring like temperatures combined with the higher elevation and sandy soil, Mexico has the ability to make some of the best wines on the planet. Of all of those Mexican wineries, the one we went to was tops. They won all kinds of awards.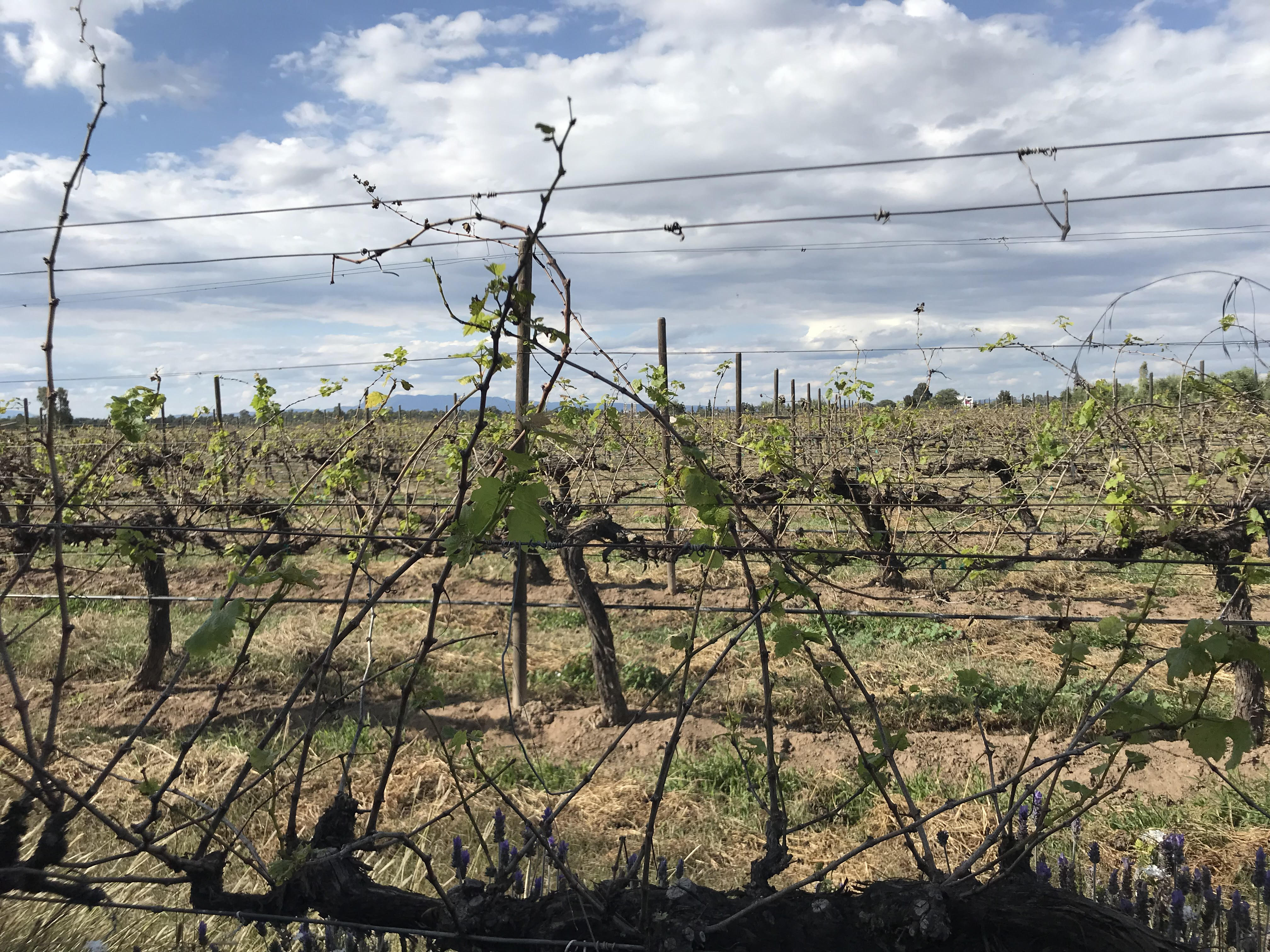 We were educated about all things wine from the nephew of the owner whose passion for growing grapes and turning them into wine was contagious. After a tour of the vineyard, we sat down in a beautiful room where we tasted all the wines and ate bread dipped in their own olive oil, munched on cheeses and devoured olives that they grew.
The big event is the big Dias De Los Muertos parade and because of Sharon and Tom we got to be a part of it. Everyone got made-up in the style of the Catrinas with a margarita in hand. Originally a catrina was an elegant or well-dressed rich woman. People dressed up as a catrina to show that anyone can put on fancy clothes and make-up, but we're really all the same underneath it all. Catrina make-up has come to symbolize the Mexican willingness to laugh at death itself.
Here I am getting my Catrina on.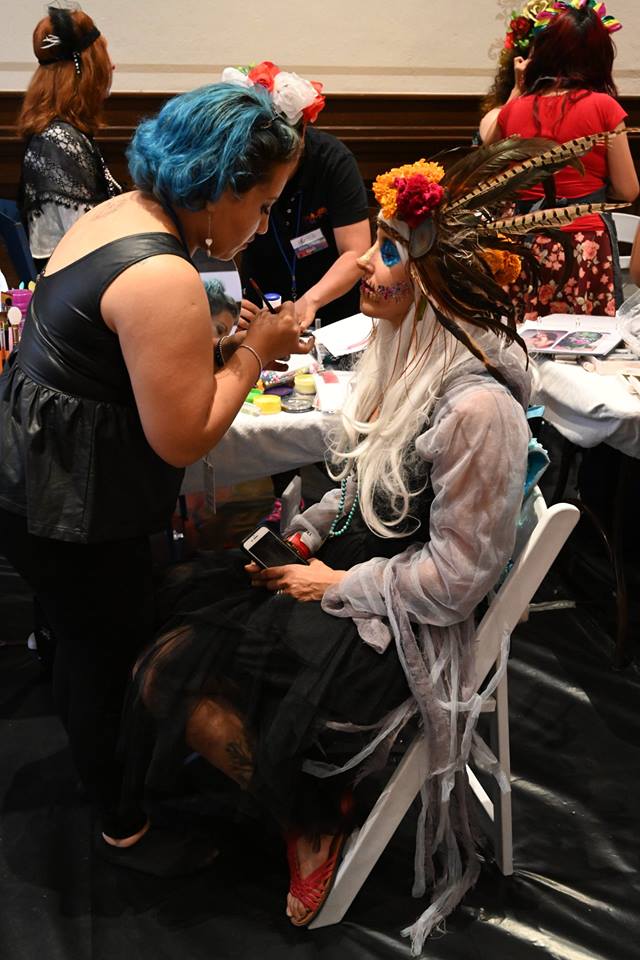 And here I am with Sharon, Tom and Daniel in the streets after the parade.
One of the most important parts of Dias De Los Muertos are the ofrendas. An ofrenda is an altar that families build to entice their loved ones to come back from the dead and visit them for the day. In order to do that, a photo of the one who has passed is placed on alter along with items that they loved while they were here on earth. Meals, drinks, musical instruments, poems, toys and candy are all displayed and decorated with sugar skulls and magnolias. There are always glasses of water out because one gets very thirsty when traveling from the spirit world. Sharon and Tom brought us on a walking tour. Here are some of the ofrendas we saw.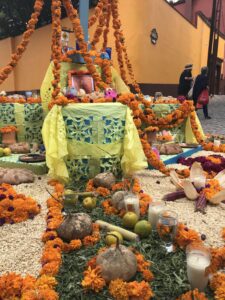 My trip to San Miguel Allende was one of the best of my life and it was because I put my trust into Eat the Peach Travel to show me the way. I saw so much more than I would have had I traveled there alone. Sharon and Tom have been coming to the area for years and have done all the research which is why we stayed in one of the best places in town, how we found out about the best places to eat, the reason we got to meet so many local folks and how we got to do so many cool things like get a private tour of a vineyard, ride horses at night and why we got to be a part of the big parade through town.
Sharon and Tom are doing this trip again next year as well as bringing people to Costa Rica and Ireland. Check out Eat the Peach Travel for more info HERE.
The music lover in me sees and bows to the music lover in you,