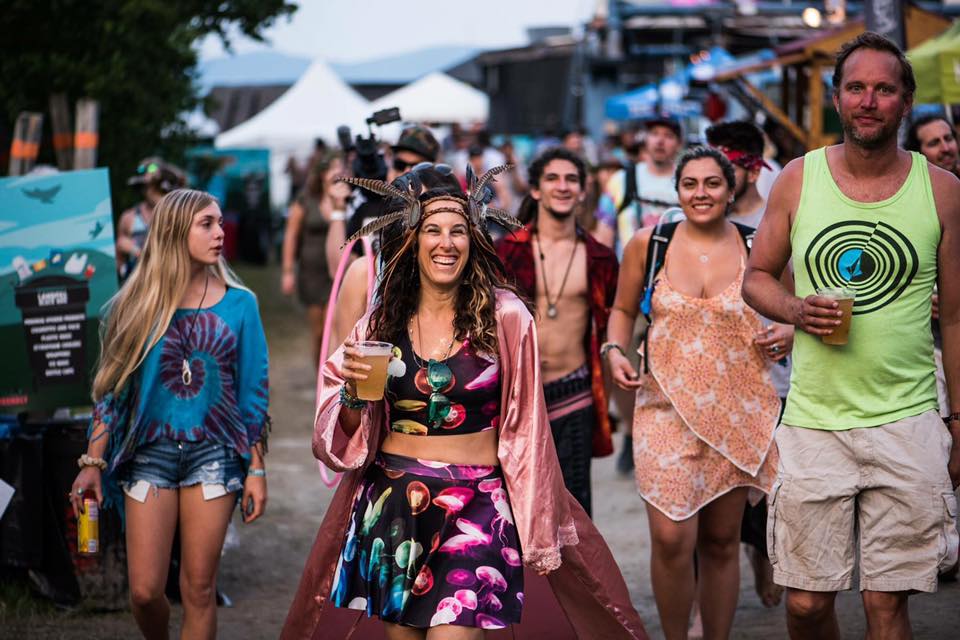 What's in my cup? I'll tell ya!
On the top of my list of my most fav conscious party animal beverages is the one I'm sippin on here right before Trevor Hall brought his magic to Frendly Gathering. Fermented and delicious (although for some it's an acquired taste) this cup of liquid gold is awesome for many reasons. Here are some:
Detoxification

Not everything I ingest is sparkly clean, so I'm glad that there are steps I can take to detox those things gently out of my system.

Improved digestion

Most of the times I eat foods that my body loves and can digest easily. And then there are the other times. This tonic gives my system a kick in the ass (sometimes literally).

Immune system stimulation

Have you ever had the wook flu after a festival or a longer show run? Drinking this is one way to attempt to prevent suffering.

Energy enhancement

As I get older, I've noticed that I get more tired than I used to. Drinking this is like putting on some raging dancing shoes that help me to boogie longer!

Improved athletic performance

Shows are like marathons full of a bunch of sprints. That's one of the many reasons I drink this beverage.

Mood booster

Post show, festival, party and holiday blues are a very real thing. Be gentle on yourself and drink this to feel a little better.
So what is this magical potion I hold in my hand?
It's
kombucha and it's awesome!
What the heck is kombucha?
Kombucha is basically a concoction of bacteria, tea and sugar. The sugary tea turns into kombucha with the help of a SCOBY—a.k.a. "a symbiotic colony of bacteria and yeast"—which resembles a floating magical mushroom. It's actually not a mushroom at all, but live bacteria. Fermentaion is the magic action that sets kombucha apart from other drinks.
Dating back over 2000 years ago this drink was used in ancient China to fight inflammatory problems such as arthritis and they used it to ward off cancer.
Besides the health benefits, I love this drink because it helps me to drink way less alcohol (which is a bonus health benefit). I get caught up in my habits sometimes and before I know it, I've drank an entire bottle of wine and even though in the moment it feels good, the next day when I wake up with a pounding headache, I usually feel pretty pissed off I made that decision.
I've been shifting my habits and creating new healthy ones. Thinking it might be hard, I thought I would fail a lot, but with some simple tricks, it hasn't been that hard from me. Everyone is different and has a unique relationship with alcohol, so make sure you know what's right for you. My body and mind can handle a little bit of alcohol and I can say no thank you once I've reached the amount I'm comfortable with. If that's not the case for you, avoiding it altogether may be a great option for you.
Sometimes I put a tiny amount of high quality tequila or vodka in my kombucha, but most of the time I like it as a substitute although kombucha does have a very small amount of alcohol in it. It's about the same amount as a non-alcoholic beer.
If I'm craving the burning feeling of alcohol, I'll choose a flavor with hot pepper or ginger. If that's not available, you can add a teeny bit of cayenne pepper or ginger juice. This beverage is also best when served cold and it's bubbly like a beer. Actually it looks like beer too!
Some of my favorite brands of kombucha are:
The one in my hand was made by Aqua ViTea Kombucha and it was incredible with watermelon and habaneros in it. Yum!!!
Want to make your own? It's actually pretty easy as long as you don't contaminate it by touching it with your dirty festival hands after Moe.down years ago like I did.
Brewing Kombucha Safely
Will homemade kombucha make you sick? It's extremely unlikely. The first time I made it, I kept calling my experienced friend to ask her if mine was contaminated. She said, "If you're questioning it then it's not. You'll know if it is."
After the time I touched it with my very dirty festival hands, it grew this crazy black fluffy mold. It was obvious and I got what my friend meant. Kombucha has been around for over 2000 years and has been made in environments that are way dirtier than yours. Just don't touch it with very dirty festival hands.
Get a SCOBY

"Scoby" is actually an acronym: Symbiotic Culture Of Bacteria and Yeast. A scoby is the living home for the bacteria and yeast that is how tea and sugar gets transformed into the buch

Where can you get one?

Ask your friends. If you're friend makes kombucha, they'll have one to give you.
Make your own. Learn how HERE

Learn how to make your own kombucha from scratch by going to TheKitchn.com
This fall I'm launching the Conscious Party Animal Coalition for those who want learn all the tricks to raging consciously in a supportive environment. Part of CPAC is receiving monthly how-to videos. Kombucha is top of the list. Stay tuned for more information coming soon!
Do you love kombucha. Tell me ALL ABOUT IT! What's your favorite kind? Do you make your own? Any tricks? What kind of cocktails/mocktails to you like to make with it? Leave a comment below.
The magic in me sees the magic in you,