It's a couple of days after Frendly Gathering and I'm feelin fine! Being a little tired from all the dancing, sun and walking up and down hills, I was gentle with myself this week, but it's nowhere near how I used to feel when I forgot to bring my healthy lifestyle with me to the festival. Like NOWHERE NEAR. Like light years away. Actually if there was such a thing as more than a trillion light years away, that's how far.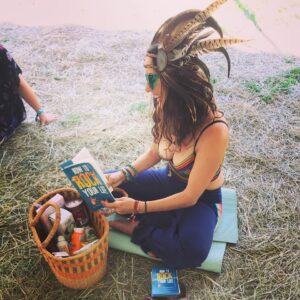 What was the difference in my post-festival well-being? This time I rocked the conscious party. And I rocked it hard!
Here's what I did:
Brought my Rocking Life Festival Basket full of all the things I'd need to bring my healthy lifestyle with me so there would be no excuses. It's so easy to make excuses if when I don't make it as easy as possible for myself to make good choices.
Drank matcha tea for elevated energy. I forgot to bring a tablespoon for measuring so one night I was a little too hopped up on the stuff. If you haven't tried matcha it's amazing for so many reasons. Besides the upper effect, this form of green tea has a ridiculous amount of anti-oxidants. This drink is great for the on-the-go lifestyle because it dissolves in cold water.
Lied in my tent with selenite and rose quartz on my body when I needed a moment to decompress and recharge. Crystals are nature's healers.
Brought an umbrella to protect me from the sun because I'm shady. Lol!
Drank superfoods in water every morning.
Went to yoga each day.
Microdosed magical fungus and cannabis.
Pulled cards before heading to the music each night and they really helped me keep to my conscious intentions.
Brought three cans of organic rose wine with me to enjoy throughout the weekend instead of a big box. When I bring a big box, I drink the entire big box without thinking. Having a limited amount of cans, I chose when I wanted to enjoy it and savored every sip. I had tiny amounts of tequila that I put in seltzer and/or Aqua ViTea Kombucha. I was never drunk and barely even buzzed. I added a Blissed Out tincture to my drinks and it elevated my mood up to the cosmos. (Blissed Out is natural and chock full of herbs) My friend Katie is creating our own version of it just for live music fans. Stay tuned.
Took turmeric pills each morning for my sore dancing muscles.
I made sure I remembered to eat. We brought hard boiled eggs for the morning. I knew who the vendors were and that Miso Hungry would be there, so I had a bowl of deliciousness for dinner. Yum!!!!
I made it to the late night silent disco on the last night and it was the best!!! Often times when I'm drinking alcohol all day, I become too tired to make it to late night without the help of recreationals. Low alcohol consumption mixed with yerba mate is a winning combination.
I wasn't perfect though. I was so into Trevor Hall that I ignored my bladder. Since I'm recovering from a UTI, I couldn't make it to the bathroom. I'm adding wet naps to my basket next time and I promise that when I have to pee, I'll pee (in the bathroom and not in my pants). Oops. Lol.
Conscious partying is a fun experiment to play with and to find what works for you may take lots of trial and error. Even with a couple of mis-choices, I'm proud of myself. I paid attention to what I was putting in my body (mostly) and didn't get carried away.
Hello. My name is Taraleigh and I'm a conscious party animal!
Want to learn all the tricks for conscious partying by putting them into practice in a safe and supportive atmosphere? Bring what you learned out into the world so you too can feel amazing after a weekend of partying. Come to the High On Life Retreat at This Wonderful Place Retreat Center this August. Find out all the details >>> HERE.