Before Morella from Thrive with Morella was a successful podcaster, we were both students at the Institute for Integrative Nutrition in NYC. The year was 2004 and we were both trying to figure out how to be healthy and to help others to do the same.
My mind was blown because I had just found out that kale wasn't just a garnish, but something that you ate and that getting a fast food burger without a bun didn't make it healthy.
Morella, fresh out of a corporate career was experimenting with a raw food diet that wasn't working for her. We were so different and in such different places in life and even though we liked each other instantly, we never got really close.
Flash forward to the fall of 2007, days after my move to Vermont, I was strolling around the Burlington Farmer's Market with my new love Dan and his parents who were visiting. In the distance I see a spunky woman handing out recipes to people at the market when my now mother-in-law lead us toward her. As we got closer, I realized I knew her.
"Morella?"
"Taraleigh?"
"What are you doing here? I just moved here," she said.
"Me too!" I responded in excitedly.
Magic is normal and I'm so grateful!!!
Since that day our relationship blossomed. What sealed the deal for me on her awesomeness was when we went to see a Michael Franti concert together. She looked me in the eyes and said, "I'm going to dance with Michael."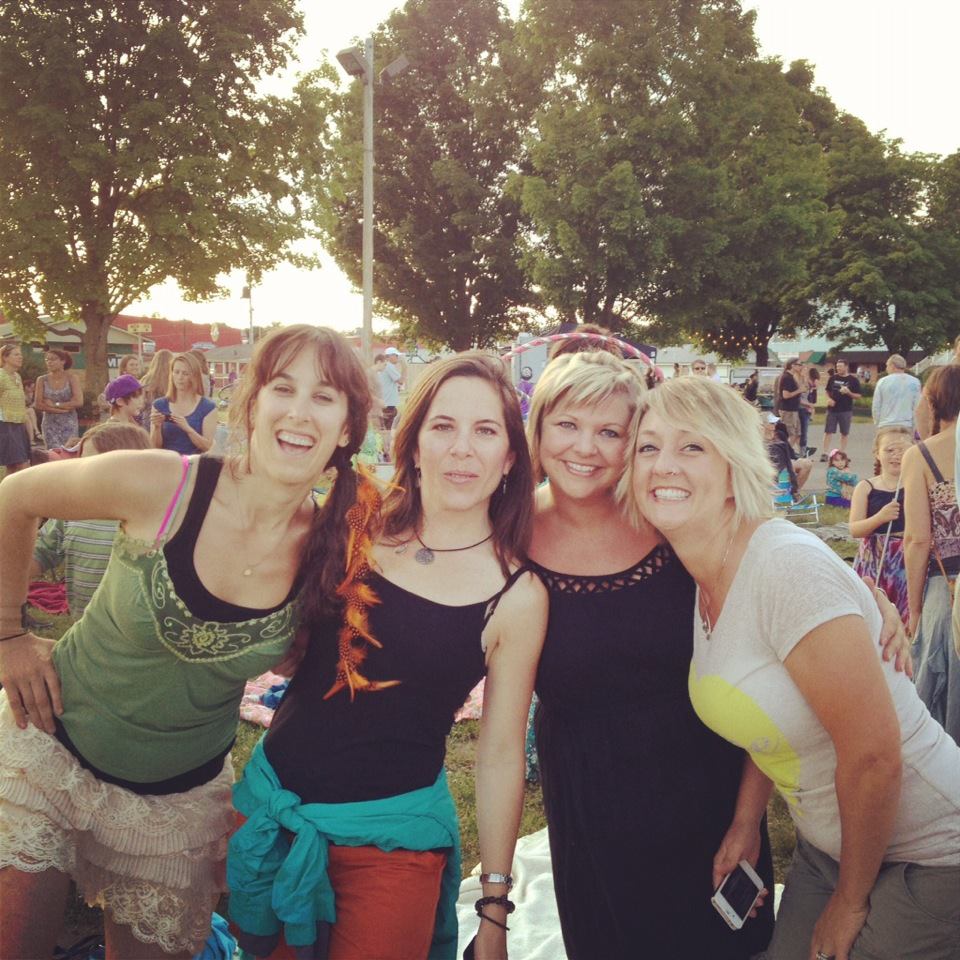 Before I knew it she disappeared in the crowd. And then I saw her. Her and Michael were dancing together on a platform above the screaming audience and I thought, "This woman can do whatever she puts in mind to and I like it."
When it came to writing my book How to Rock Your Life: Maintain the Magic of Live Music in Your Everyday Experience (available on Amazon), I knew I needed a writing buddy. If left to my own devices, I don't get stuff done. I remembered Morella telling me about a book that she had inside of her that she was seeking to get out, so I asked her if she'd like to have writing dates with me. She said yes to my offer. Without her, my book would not be an actual book with pages and words, but an idea in my head that would have never seen the light of day.
This year was a good year for her as she launched a podcast called Thrive with Morella and I had the honor of being her first guest. We talk about all the things and you can listen to it HERE.
If you love it (which I know you will), you can subscribe to Thrive with Morella on i-tunes and Spotify.
I hope you have a wonderful day and thanks for reading. If you want to know how I met someone, let me know by leaving a comment.
The magic in me sees the magic in you,