This How We Met series has been so fun. Your responses to how I met Ryan Montbleau were really entertaining to read and I loved how much he's a part of so many of your lives (whether you know him personally or love his music). If you missed it and you'd like to read it, you can do so right HERE.
Compiling a list to share with you about how I met some of my favorite music people brought up so many great memories. The intertwining of lives because of a passion that we all share for music (making it, supporting it and/or listening to it) is so outrageously beautiful and I'm grateful for it all. Chances are, I know you one way or another because of music. Yay!!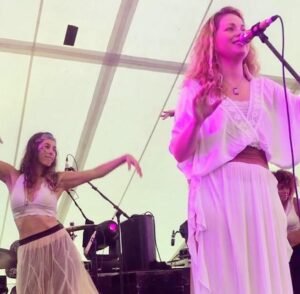 Hayley Jane is a beautiful and extremely inspiring force in our scene. Putting it ALL out there on the stage night after night at every single performance is her specialty. There could be one person in the audience or a stadium full and she'll give you all she's got. Something you may or may not know about her is that she makes every single person in her world feel important and special. Not everyone feels like this is something important to cultivate, but she does. If you've been in her presence, you'll know what I mean.
Last fall we brought fifteen women together for a Wild Woman Retreat in Vermont. Not only did she play us to sleep in our jammies each night, but she showed up. And she showed up big time. I don't mean physically (although she was there in that way too), but she brought every ounce of her being with her and was open to sharing it all.
Opening up about her struggles and triumphs with the group, teaching us choreography from one of her songs, empowering us to write a song together that is now in her solo show rotation all while taking the time to get to know each person was just the tip of the iceberg of what she did that weekend.
Because of her vulnerability, everyone felt safe to share what was true for them too. We came as strangers and left a family. Hayley and I are at it again this May and there are a handful of spaces available. If this interests you, learn more and reserve your space HERE.
How did I meet Miss Hayley Jane?
Our worlds collided at a beautiful festival that took place in the jungles of Costa Rica where the
monkeys, parrots and crocodiles play. Jungle Jam was the perfect name for the festival because we jammed hard in that jungle. I'd been attending the festival for a couple of years organizing yoga while getting to experience the magic of all the live music that happened there.
Jungle Jam is a place where I reveled in getting to see some of my favorite bands like Twiddle, Dumpstafunk and Ryan Montbleau Band surrounded by jungle plants and palm trees while discovering new bands. This festival is where I saw Oteil Burbridge play for the first time. I'll be sharing the story how we met and became friends shortly. I didn't know who he was at the time, but was mesmerized by the joy he exuded on and off the stage.
I also didn't know who Hayley Jane was. She was working the festival so I talked with her every time I entered and left the festival grounds. Wrapped up in a scarf in a very unique and interesting way, I had to know how she did it. Explaining that someone showed her how to wrap her scarf this way and that she promised that she'd teach others, she showed me how to do it. I loved her immediately and thought it was so cool that she was sticking to her word of sharing the scarf magic.
After a band took the main stage the next night, I heard a woman take command of the crowd over on the side stage. Even though I had to go to the bathroom really bad, I was drawn directly to the stage. Hayley's magnetic pull really is that strong. I sat as close as possible without being creepy as she rocked my world with her music. After her set, I went up to her. I said, "You've gotta do this full time!"
I had never heard of her before this and didn't know that she was successful and already doing it full time. She could have responded in many snarky ways, but she didn't. She humbly took in what I had to say and didn't make me feel stupid for not knowing who she was. I was kind of obsessed from that moment on.
I downloaded all her songs and danced around to them at my house. I told everyone I knew that they had to check out Hayley Jane. When she was playing at MAYfest (now called Ascend Festival) I was so excited. She was performing on the beach stage so I went to my usual spot right in front. Asking me if I had a hair elastic, I handed her the one off my wrist. She pulled me up on stage and said, "Just go with it and dance with me."
It was an amazing experience. After the show we were talking and I said, "You know what? We should do a retreat together."
She shared how that was kinda scary for her and I said, "Well that means that we've got to do it."
It didn't happen right away, but a couple of years later we did our first retreat together and it was an epic success. So amazing that we had to do it again and we are. It's happening in less than a month and there's some spaces available. Follow this link to learn more and reserve your space.
Hayley is now one of my best friends and a part of my soul family. Thank you Eric Freitas for inviting us to Jungle Jam. You rule!
Curious about how I met someone? Leave a comment and you might find that story in the next edition of How We Met.
The magic in me sees the magic in you,