Happy Thursday music lovers!!! I love so many things about our live music scene that go way beyond the music. One of those things is how intertwined we are and how we all pretty much have six degrees of separation or less from the musicians we see on stage. This not so secret society of jamband lovers is an inclusive club that has connected me to so many beautiful people that are not only my friends, but my family too. Most of you reading this are members of that family who were brought into my life in one way or another because of music. And I'm so freakin grateful!
People have expressed an inquiry to knowing how I know the people that I do and from that line of questioning I often receive, I'm going to start sharing stories of How We Met on my blog.
The very first story is about how I met the one and only Mr. Ryan Montbleau and it's an awkward and magical one.
Feeling nervous and uneasy behind the merch table, I was overwhelmed with excitement every time a musician walked over to me to give me their goods to set up before their set. The english language was one I often forgot when they approached, so I would giggle, smile and nod without a word finding its way to the surface.
The year was 2006 and I had just scored my first ever volunteer position as a merch person at a music festival.
As the weekend went by, I started to feel more comfortable and confident when I was approached by musicians in the tent. Then Ryan Montbleau stopped by. I had just seen his set and was blown away by his talent. All of his songs spoke to me and there was something about the way he sang them that felt really vulnerable and special. Asking me how his merch was doing, my shyness suddenly returned uninvited. I managed to sputter out a few words that seemed to make sense when I blurted out, "You have a lot of extra extra large shirts left. Could I have one?"
Looking me up and down with skeptical eyes taking in the fact that I wasn't someone who would require an extra extra large shirt, he shrugged his shoulders and gave me a shirt. I was embarrassed by my ask and nervous that I broke the unspoken rule of the merch booth and would be asked to not only leave my perch behind the table, but the festival itself. No one seemed to notice my rebellion, so I tucked the shirt into my backpack and went about what I was doing.
I had a plan for this shirt and it was a good one! My shift had ended and I wandered back to my campsite to put my plan into action. Finding a pair of scissors was my first mission. My neighbors had a pair! Yay. Now I was ready.
Attacking that shirt with fury, material was flying everywhere. After about an hour, my project was complete and I was going to take it on the road. I met up with my friend Britt to show her what I'd done and she was VERY impressed when we felt the first drops of rain. And then some more. And then the sky opened up making way for the largest drops of precipitation I've ever seen start raging down hard on us. She was a photographer for the festival and had an all access pass, so when she ran into the backstage area to avoid getting drenched, even though I didn't have any credentials, I followed her.
Doing their best to stay dry, a group of musicians all huddled under a tent with their instruments. They were all a part of Matt Butler's Everyone Orchestra, so that tent was chock full of some pretty amazing talent. It was a shame that the set got canceled due to lightning, but selfishly I was grateful for that act of nature because it was the catalyst of Ryan and I getting to know each other.
I recognized him from our previous interaction and ran up almost bursting from excitement to show him what I did. Unzipping my patchwork hoodie and pulling it open with gusto, I exclaimed proudly, "Look what I did!"
He took a step back and saw that I had taken that extra extra large shirt and cut it into a cute dress. "Wait? You did that here?"
I shook my head yes and then told him how if he ever had shirts that didn't sell, I could take them and turn them into cute dresses. I ended up doing that for him for a couple of shows in exchange for free tickets.
The rest is history.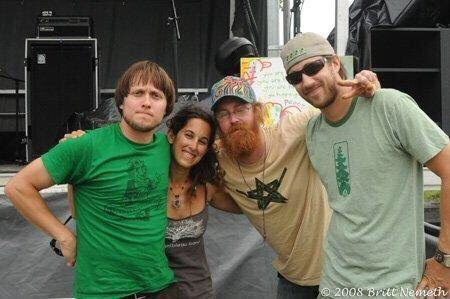 Are you curious about how I met someone? Leave a comment below and you just might see the story in the next edition of How We Met.
The magic in me sees the magic in you,
Taraleigh
PS Attention Songwriters! Ryan is doing a songwriting retreat at This Wonderful Place this June and there are three spaces left. Check it out and reserve your space HERE.
PPS Hey hey hey wild women! Hayley Jane and I are leading a retreat this May for those looking to unleash their creative wild woman with us. There are a couple of spots still available. Check it out and reserve your spot HERE.