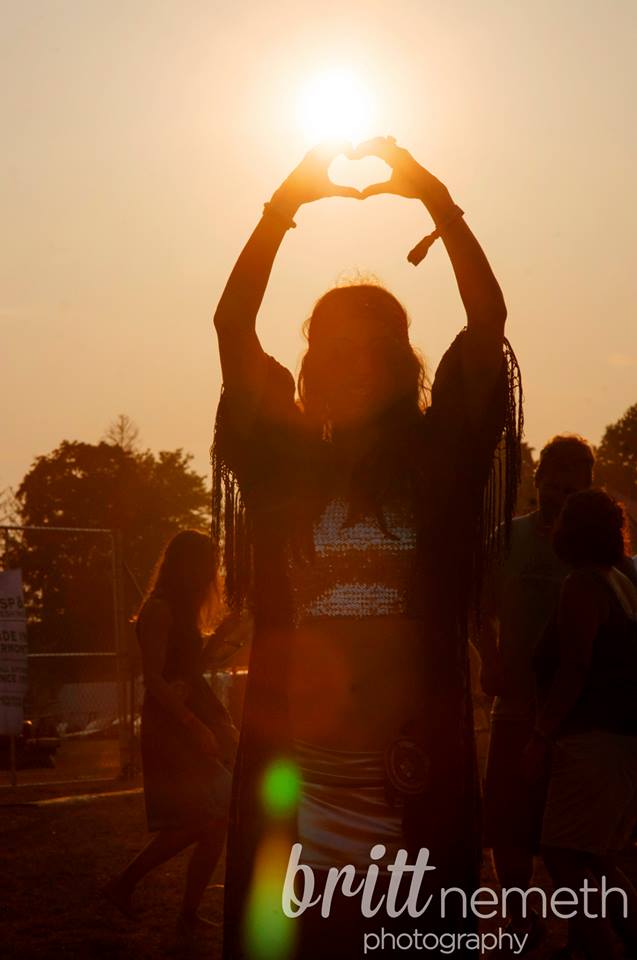 When I go see live music it fills my life battery to the max. I know after a show or festival (after I've slept a lot)  I feel inspired and renewed from the experience.
If you love live music as much as I do then you know that going to shows is just as important for your health and well-being as eating a healthy diet, exercising and having a meditation practice.  
In the past I didn't have a clue on how to bring that festival feeling that we all chase all over the country into my daily life. I know it's not possible to feel as high as when the lights go down the moment before your favorite band plays their first note all the time. But, what if it was possible to feel even a small percentage of that way even for a moment on a daily basis? When I was home I couldn't access that feeling and I felt sad, tired and out of alignment.
The real me was aching to come out and play and she couldn't wait until the next show.
So I did what any responsible adult would do. I let the real me
out to play. At first I did it in small ways like wearing tie dyed underwear to work. Once I realized that I was still alive, I got even more brave.
I'm pretty sure most and of my friends and I were witches in our past lives and were persecuted or even killed for just being who we were. Even though I know it's safe in this lifetime to be me, the fear is still within me. And I'm not fearless. I feel the fear every single day, but I act the way I want anyway even though sometimes it scares the sparkles out of me.
The more I let my real self out, the more I crowded out what wasn't in the best interest of who I really was. I lost jobs, friends and one of my boyfriend broke up with me. But I what I gained was soooooo worth the risk.
So…this weekend what are you doing to fill your life battery?
Are you going to a show? Are you going to wear tie dye underwear? Are you going to hug a stranger? (asking them first of course)
Please share below by leaving a comment <3
The awesome in me sees the awesome in you,
Taraleigh
PS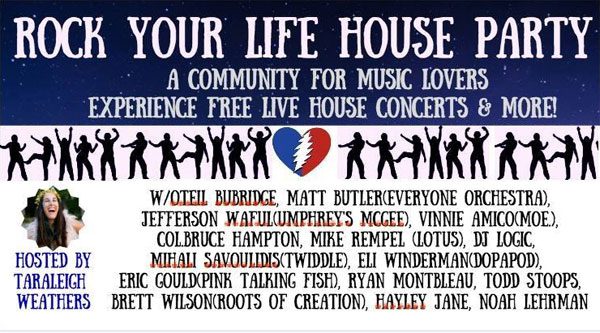 I've been a busy little bee cooking up something with all my rock star friends that I want to invite you to. It's the Rock Your Life House Party and it's free. All you have to do to come to the party is RSVP HERE.
When you RSVP, you will get guaranteed seats to LIVE streaming house concerts this fall, free swag, other fun things that will only be offered to attendees, and premier access to register for the Super VIP Experience.
The official master teachers list for the Super VIP Experience are:
Head Master Teacher: Oteil Burbridge
Master Teachers: Matt Butler from Everyone Orchestra, Jefferson Waful, Vinnie Amico from Moe., Col.Bruce Hampton, Michael Rempel from Lotus, DJ Logic, Mihali Savoulidis from Twiddle, Eli Winderman from Dopapod, Eric Gould from Pink Talking Fish, Ryan Montbleau, Todd Stoops, Brett Wilson from Roots of Creation, Hayley Jane from Hayley Jane and the Primates and Noah Munro Lehrman.
I will be sending house partiers some emails soon with some fun announcements like the house concert schedule and  how to nominate a person, band or organization for a $1000-$10,000 grant so stay tuned.
Once you've RSVP'd you can invite your friends to the party by copying and pasting this link http://eepurl.com/bS_-h5 and then posting it to all your social media outlets.
See you at the party!!!