Music festival season is upon us finally!! Can't you just feel the excitement in the air? It's pretty much all my friends and I can talk about. I received an email last week from my friend Sara Anne and she asked me for recipes for foods you can bring to festivals. She said that often times there aren't that many healthy options available and so she ends up eating fried cheesy things and is left feeling sluggish and bloated which totally cramps her dancin til all hours of the night style.
I feel her! If I don't prepare beforehand I do the exact same thing and feel the same way.
Here are some of my favorite festival friendly recipes. 
Veggie Sandwiches
If you pre-make a bunch of sandwiches that don't need to be heated up to eat, they make great go-to meals at festivals. My favorite is hummus, avocado, and lettuce with a veggie burger. You can store these in tin foil, but I find that when I put them in a waterproof container I get better results and there is less of a chance of soggy sandwiches.
Hard Boiled Eggs
This one speaks for itself. You can find an egg carrying container at any camping store which makes traveling with eggs easier. Make sure to purchase organic cage free eggs. If you can get them from a neighbor or a farm you trust that's even better.
Yogurt and Granola
I always bring a tub of coconut milk yogurt and in a separate container I pack some granola. This makes an easy go to breakfast that takes little thought or energy to prepare.
Bananas and Almond Butter
I call this delicious snack "nature's candy bar."  All you have to do to prepare this snack it to peel the banana and with a spoon smear almond butter all over it.
Rock-N-Sushi-Rolls
I love making veggie sushi for festivals. Sushi rices is very hydrating, the avocado gives you some good fat and the veggies are nutritious. I keep mine in a waterproof container in my cooler and the chilled rolls are so refreshing on a hot day.
Things Needed for the Magic:
2 Cups sticky rice aka sushi rice
1/4 Cup rice vinegar
1 TSP Salt
1 Package roasted seaweed sheets
2 Carrots
1 Cucumber
1 Avocado
Soy sauce
Wasabi
Pickled ginger
How to Make the Magic:
Place rice and water in a saucepan over high heat, bring to a boil, and reduce heat to a simmer.
Cover and simmer rice until water is absorbed which takes about 15 minutes.
Remove rice from heat and allow to stand covered for 10 minutes.
Pour vinegar on the rice and stir.
Let rice cool and in the meantime, prepare the veggies
Slice avocados, cut cucumbers into thin spears and shred the carrots.
Fill a small bowl with salt water and wet hands with it.
Using your hands smear salt water onto a sheet of nori.
Spread some sushi rice on the bottom half of the nori sheet.
Place the veggies horizontally towards the bottom of the rice.
Pick up the bottom of the nori sheet and tightly roll the sushi up as if you were rolling a blunt or a joint.
When it's almost completely rolled wet the last part of nori and seal it shut.
Place it to the side and repeat until all of your ingredients are gone.
Slice each large roll into 6-8 pieces.
Quinoa Salad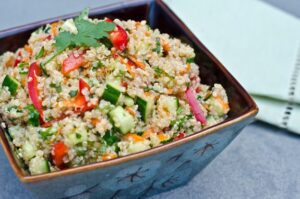 Things needed to make the magic:
1½ cup dry quinoa
½ tsp sea salt
½ cup extra virgin olive oil
1 tbsp balsamic vinegar
2 garlic cloves chopped finely
1/4 cup fresh basil chopped finely
Black pepper
3 cups arugula
1 can of drained garbonzo beans
1 red, orange or green pepper chopped
⅓ cup pitted kalamata olives, sliced
How to make the magic:
Cook the quinoa according to package directions.
Let it cool.
Mix the olive oil, balsamic vinegar, garlic and basil. Add in some sea salt and pepper.
In a container with a lid (most festivals don't allow glass so remember that when choosing your container) add the quinoa, arugula, garbanzo beans, bell pepper and kalamata olives  and drizzle the dressing over it.
What are your favorite festival recipes. Share them by leaving a comment below. Let's inspire each other to eat healthier at festivals. 
The awesome in me sees and bows to the awesome in you,