I used to suffer from what is famously talked about in the movie Office Space as a "dreaded case of the Mondays." I never fully enjoyed the weekends because all I could think about was how I had to get up and go to a job that I didn't like on Monday morning. The present moment was something I rarely lived in unless I was at a festival or a show. Even though I had the best time ever at musical events, I felt like my life was missing something and I was really sad about it. The thing I was missing was daily doses of present moment magic. The situation was that I hated my job and instead of seeing the magic that was there I chose to stay in the hatred, resentment and the disappointment in myself.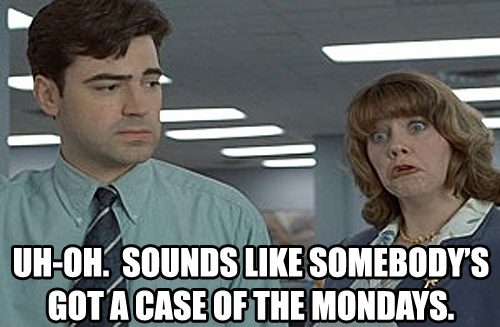 Things started to change for me when instead of solely focusing on what sucks or what's not happening as fast as I want it to or spending time being jealous of other people I shifted into an attitude of gratitude.
It took a lot of practice to get there. It took a good amount of time for my attitude of gratitude to become my norm. I started with a one pound gratitude weight and kept on lifting heavier and heavier weights every day. Even though I'm a gratitude heavy weight now, I still fall of my unicorn sometimes and throw myself pity parties.
But the difference is that now I spend way less time off my unicorn face down in a pile of poop. Because an attitude of gratitude is my norm, I feel genuinely happy and grateful for all that I do have most of the time. I've found that I enjoy festivals and live music shows even more than I did before.
And that is why I'm excited when Monday comes around now.
And I want that for you too if you're not that excited about Monday. Oteil Burbridge and I are hosting a Rock Your Life Retreat together that you can participate in from your own home for 8 weeks this fall. The retreat is packed with awesomeness including workshops with Oteil and I, master classes taught by our amazing musician friends, yoga classes, virtual backstage hangouts, a community of like minded retreats and so much more.
Get on the VIP wait-list to get backstage exclusives, guaranteed seats to virtual house concerts this summer, sweet bonuses and early-bird registration to the retreat. Get on the list HERE!
Thank you for being here reading my words. I love you.