Originally published in the Huffington Post
TheNEWDEAL first began in Toronto in 1999, quickly gaining support from Toronto's underground club scene as pioneers in electronica, recreating the DJ experience with live, improvised music. Soon the band brought their interpretation of Electro House, Trance, Breakbeat and Drum & Bass to the US, where they were embraced by the crowds at NYC's Wetlands Preserve and cultivated a loyal following in the American jam scene.
After twelve years of touring, theNEWDEAL took a hiatus in 2011 and returned to stages in 2014. I am a huge fan of theNEWDEAL and have seen them many times including their last show before hiatus on Jam Cruise. It blew my mind and I was so upset that the band was no longer going to play together. Sometimes things are so exciting that I can't contain myself. TheNEWDEAL playing again was one of those things and I almost spontaneously combusted into a pile of dirt, sand and glitter, but I didn't and since I'm still here I was granted the opportunity to interview keyboardist Jamie Shields all about the magic he brings into the music scene and the world.
Taraleigh: What was the driving force to start theNEWDEAL?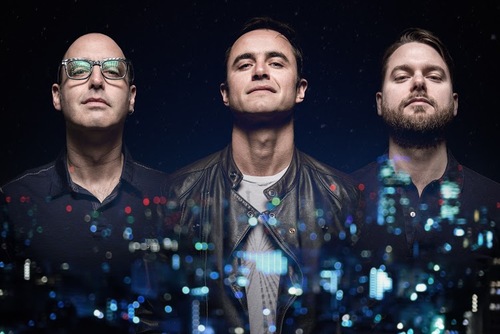 Jamie: Short answer – To play music that we wanted to play with musicians that we wanted to play with.
Long answer – theNEWDEAL actually started without our consent or knowledge – we originally had a weekly gig playing acid jazz in some crappy bar where they kept on telling us to turn it down (it was bothering the pool players). It got to the point where we were playing so quietly that nobody could even hear us, so we decided on the spot to just start improvising tracks and seeing where it would go – it's not like anybody was going to notice or care. It ended up sounding so good that we booked a different (better) club to try out this new musical plan of ours. We wanted to hear it back at the end of the night so we made sure to record it on some cassette we found lying around. When we listened back afterwards we were so blown away that we decided to put it out as a record. It was at that point that we realized that:
1) We were making some pretty interesting music
2) We were now a band
3) We better come up with a name
Taraleigh: When things "seem" to not go our way they are not happening TO us, but actually happening FOR us. How tND came about is a perfect example of this. I'm grateful for those easily distracted pool players and what conspired from their complaints. I noticed the original drummer Darren Shearer is not longer playing in the band. What was your driving force to keep going?
Jamie: We had decided in 2011 that we would stop playing together as a group come 2012. Basically we had come to the conclusion that the other twenty-two hours of the day on tour were starting to outweigh the two hours that we enjoyed so much playing music on stage. We never lost our love for theNEWDEAK but that love was increasingly compromised by all the garbage outside of the music.
Fast-forward to 2014 – Dan Kurtz (New Deal bassist) and I were mulling over the possibility of playing some tND shows but Darren just wasn't into it. There were no hard feelings and we totally understood his position. He was now based in Los Angeles and his life was moving in a direction that didn't involve tND.
I never got tired of playing music with Darren – it was always a treat – but Dan and I both had a feeling that we could still do it with our friend Joel Stouffer, who completely understood what the New Deal was about (he had filled in for Darren on some past shows when he had broken his hand). Our feelings were confirmed when we sat down to jam with Joel and realized just how easy it was to improvise music in the same spirit as the original tND. Knowing that we still had that creative foundation rekindled our desire to make music on the spot with musicians that "got it".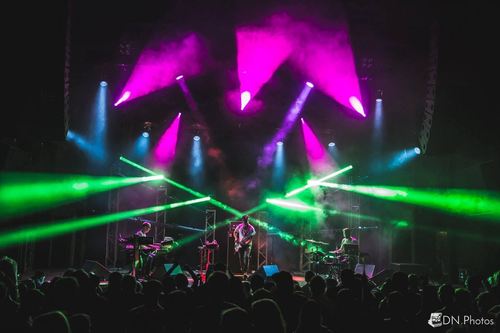 Taraleigh: Sounds to me that it worked out divinely for everyone involved. How would you describe theNEWDEAL's spiel?
Jamie: No Money Down, 30-Day Warranty and 0% financing on all 2016 models.
Taraleigh: What a bargainl! I'll take five.
Jamie: We used to call it "Live Progressive Breakbeat House" but that was too much of an earful – plus it also limited what the band was really about. We just call it "New Deal Music" because how else would you really describe it? It's not like we had a meeting when we formed and said "ok, guys – we're going to start improvising these giant 30-min pieces of dance-type music (but not strictly dance music), we won't have a singer, we'll rarely play the same thing twice but we'll still write a bunch of tracks that we'll touch on here and there in concert, we'll sign with/get dropped from a major label and release a dozen studio and live records that will be enjoyed by fans around the world". You can't really plan this thing out, you know?
Taraleigh: You just described tND impeccably. If you asked your grandmother to describe tND what would she say?
Jamie: "A phase he's going through until he becomes a doctor"
Taraleigh: Haha! I'm so inspired by your phase and how you took something you loved that you're awesome at and made it into a career. What's your biggest inspiration in life?
Jamie: Realizing that I've been incredibly lucky enough in life to develop a career out of creating music I like with people I like and that I shouldn't take it for granted or screw it up!
Taraleigh: You pretty much just summed up the key to living an amazing life. Thank you! Who's your biggest musical inspiration?
Jamie: Guys like Brian Wilson and Frank Zappa are part of my musical DNA, particularly their desire to throw convention to the wind and compose what they're feeling inside without regard for external forces. On the flip side, I wrote an article for Relix Magazine last month detailing my love for TV Production Music Libraries from the 1960s and 1970s, particularly a composer named Keith Mansfield. His ability to write catchy/hooky/memorable music in any style (and to do it all within an incredibly short timeframe) is the stuff of legend.
Taraleigh: What are you most grateful for right now?
Jamie: The ability to make music every day and still watch my children grow up.
Taraleigh: You are totally living the dream. What was a golden piece of advice you received from a fellow
musician?

Jamie: "Never base your musical decisions on what you think other people want to hear – always go with what you'd like to create and what you'd enjoy listening to."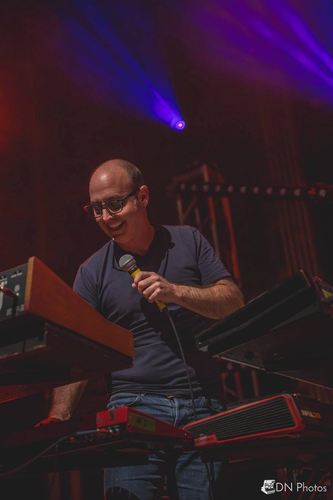 Taraleigh: Hell yes! I give this advice to people all the time whether they are a yoga teacher, a life coach, an artist or an entrepreneur. What would you be doing if you weren't playing music? For instance would you be a game show host on a cruise ship for a show called, "Let's Make a New Deal? (I witnessed this actually happen on Jam Cruise a few years ago)
Jamie: The best part about that game show gig was I was rocking a low-grade fever and was severely under the weather… until those lights came on and then it was All Systems Go. The people running the show tried to give me some cue cards and notes, but everyone just said to them "that's ok, he'll take it from here". Some say that I was born to be a game-show host. I say that I was born to pretend to be a game-show host. Either that or raise sheep in northern Scotland six months a year with the other six months spent lounging on Miami Beach.

Taraleigh: It sounds like your life would be pretty awesome no matter what you chose to do, but I'm grateful that it's music so we all get to bask in all it's beautiful glory. Since you're from Canada I have to bring up the crush I have on Canada's Prime Minister. He's very attractive. What do you think? You know…about his policies and why should he come see theNEWDEAL play?
Jamie:/strong> The Honourable Justin Trudeau comes from a family of music lovers, or something like that. His mother Margaret was known to hang with the Rolling Stones here and there. As for my thoughts on his hotness – there's currently a long-standing Parliamentary Debate going on as to whether Mister Prime Minister should be officially designated as "Hot", "Cute", "Sexy", "McDreamy" or "DILF". Over $2,000,000 of taxpayer money has been spent to ensure that this debate receives the time and attention that it so rightly deserves. Who am I to stand in the way of the Great Political Machine? I leave this up to my masters on Parliament Hill to decide.
Taraleigh: Great response to a silly question! What are you looking forward to next?
Jamie: We've got our first new studio record in 12 years, "Mercury Switch" coming out on March 4th and we're excited about that, but the New Deal's #1 favorite thing to do is play live music. We're putting together a bunch of shows for 2016, starting with AURA Music Festival in Live Oak, Florida from March 3-5. Gasparilla Music Festival in Tampa, Florida on March 12th and then closing out the month with shows in Boston and Brooklyn on March 23 and 24th and a pair of shows with our friends The Disco Biscuits at the Capitol Theater in Port Chester, New York on March 25th and 26th. We are very excited to return to Camp Bisco in July.
Taraleigh: So much awesome to look forward to. I'm going to try my hardest to come see you in action and get my boogie on.
Check out Jamie doing his thing with theNEWDEAL
TOUR DATES
3/04/2016 – Aura Music Festival – Live Oak, FL
3/12/2016 – Gasparilla Music Fest – Tampa, FL
3/23/2016 – Sinclair – Boston, MA
3/24/2016 – Music Hall of Williamsburg – Brooklyn, NY
3/25/2016 – Capitol Theatre – Port Chester, NY %
3/26/2016 – Capitol Theatre – Port Chester, NY %
7/14-16/2016 – Camp Bisco – Scranton, PA
8/18-20/2016 – Camp Barefoot – Elkins, WV
% – supporting The Disco Biscuits
NEW ALBUM – PUBLIC LINKS
iTunes:
Spotify:
Vinyl Pre-Order:
Vinyl Pre-Order includes free Digital Download, and will be a limited edition pressing of Blue Vinyl, only 300 hand-numbered copies produced.
The awesome in me sees and bows to the awesome in you,