I'm always looking for recipes to make for dinner that I've never made before. This one from Eating Well Magazine popped up on my Facebook feed, I freaked out a little bit and added it to my meal list immediately. I made it and it was soooooooo delicious and easy (my two favorite qualities in a meal I'm making). My husband has been raving about it ever since. Because of my dietary restrictions and the fact that I'm using bone broth to heal my gut, I adapted the recipe to suit my needs. You can find the original recipe at eatingwell.com.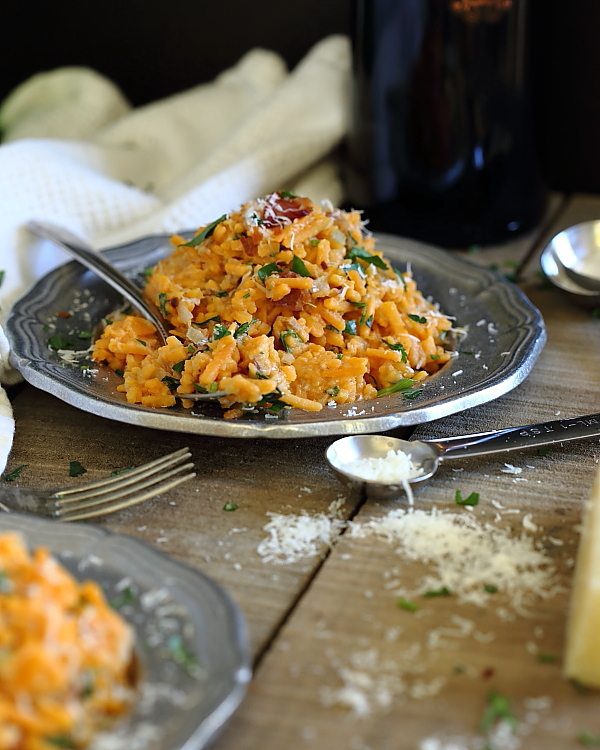 Photo credit: Pop Sugar
What's in the Magic:
2 large sweet potatoes (it's easier if the potato is as close to a beer can shape as you can find)
3 large organic free-range eggs, beaten
1 cup grated cheese (I used almond cheese)
1/4 teaspoon salt (Himalayan)
1/4 teaspoon ground pepper
1 tablespoon extra-virgin olive oil
1 bunch basil, chopped
1 8-ounce package sliced mushrooms
2 cloves garlic, minced
1 5-ounce package baby spinach
Put on your favorite music and dance. Here's a playlist I made.
Boil water in a large pot
Spiralize the sweet potatoes with a spiralizer or a julianne slicer to make noodles
Cook the sweet potatoes in the boiling water, gently stirring once or twice, until just starting to soften but not completely tender, about two minutes. Reserve 1/4 cup of the cooking water, then drain. (Instead of keeping 1/4 cup of the cooking water I used bone broth instead…your choice)
Return the noodles to the pot and turn off the heat
. Combine eggs, cheese, salt, pepper and the reserved water or bone broth in a bowl
Pour over the noodles and gently toss until evenly coated.
Heat oil in a large skillet over medium heat. Add mushrooms and cook, stirring often, until the liquid has evaporated and the mushrooms are starting to brown, 6 to 8 minutes.
Add garlic and cook, stirring, until fragrant, about 1 minute.
Add spinach and basil and cook, stirring, until wilted, 1 to 2 minutes.
Add the vegetables to the noodles and toss to combine. Top with a generous grinding of pepper.
Put it on a plate
Sit down at the table
Take three deep breaths
Express three things that you are grateful for in the moment
Enjoy!!!!
Have a recipe you love or tried this one?
Leave a comment below and feel free to share <3
The awesome in me sees and bows to the awesome in you,