One of my favorite foods in the world is macaroni and cheese. In college I would eat entire boxes in one sitting. After a binge full of chemicals and processed foods I often felt bloated, tired and sick. After much work on myself and eating mostly whole real foods I started eating this version of mac and cheese instead and it's epically good!!!!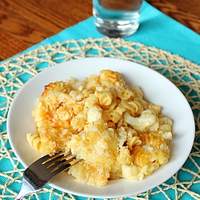 Ingredients
1 tablespoons olive oil
2 pieces of toasted bread made into breadcrumbs in your blender (I used ezzekial bread)
2 tablespoons chopped fresh parsley leaves
1 cup of cooked pasta (I used quinoa pasta)
2 cups cauliflower florets
3 cloves garlic chopped
1 onion chopped
1/4 cup milk (I used coconut milk)
1 cup shredded smoked gouda cheese
1/2 cup shredded cheddar cheese
1/4 cup grated Parmesan
Sea salt and freshly ground black pepper, to taste
Instructions
Preheat oven to 375 degrees
 Lightly oil a 9-inch baking dish
Heat 1 tablespoon olive oil in the pot
Add garlic and onion and cook until onions have become translucent which is about 3-4 minutes.
Dance around your kitchen and sing to your favorite song using a spatula as a microphone
In a baking dish pour in pasta, cauliflower, onions, garlic, breadcrumbs, milk and cheeses a handful at a time until smooth; season with salt and pepper to taste. Add more milk as needed until desired consistency is reached.
Place into oven and bake until bubbly, about 12-15 minutes.
Give an encore performance with your spatula microphone
Serve immediately
Before you dig in express what you are grateful for that day and take 3 deep breaths
Enjoy!
Do you have a recipe you love? Post it below in the comments section or send me an email here.