I felt like I was stuck in a food rut. After a yoga class I asked a couple of people for their favorite wintertime recipes and this one struck my fancy. It's normally made with peanut butter, but since I'm allergic I substituted almond butter and added a couple of my favorite stew ingredients.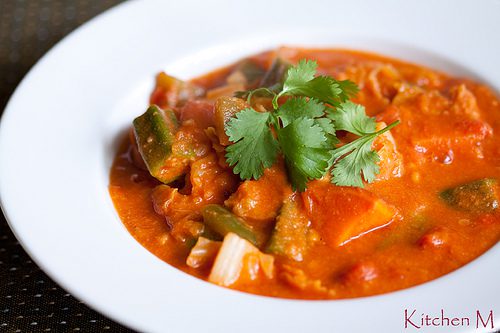 Photo by Kitchen M
Ingredients:
1 onion
2 cloves garlic
2 tbsp fresh chopped ginger
2 tbsp red curry paste
4 cups veggie broth
4 cups water
1 large sweet potato cubed
2 carrots sliced
1 small can of diced tomatoes
2 large handfuls of greens (spinach, kale, collards)
1 cup almond butter
1/2 cup uncooked brown rice
Directions:
Put all the veggies, can of tomatoes, uncooked rice, curry, veggie broth and water in a crock pot and stir
Cover and cook on low for 6-8 hours or high for approximately 4 hours. Go to work, a show, for a galavant, to the gym, for a hike or do whatever you like to do.
Stir in almond butter and cilantro and turn crock pot up to high. Cook for an additional 30 minutes. Have a dance party to Paul Simon's Graceland album.
Serve in bowls. Express what you are grateful for and then dig in and enjoy!!!!
What are some of your favorite recipes? Let me know by leaving the recipe in the comments section below. Be sure to pair it with your favorite music.
The awesome in me sees and bows to the awesome in you,