People often ask me what I do for "work" and one of the things I do that makes my heart sing is that I lead a virtual coaching program for live music fans called Rock Your Life Mentorship.
The mentorship provides so many amazing things for its participants (like community, accountability, the tools to manifest all the concert tickets you desire) and one of my favorite parts is when we get to connect with the mentors on the phone. Those calls are always magical because the people I pick are heart and soul centered, open and honest and ready to answer any questions that are brought to them by the participants. Even though some of them might be your idols that you put up on pedestals they are just like us. Sometimes they can't get out of bed, sometimes they feel like their worlds are crashing down on them and sometimes they are afraid to step on the stage and play the first note.
We've gotten to talk to Oteil Burbridge from the Allman Brother's Band and Dead and Company, Zach Deputy, Mike Rempel from Lotus, Eli Winderman from Dopapod, Matt Butler from Everyone Orchestra, Brock Butler from Perpetual Groove, Bill Carbone from Max Creek, Ryan Monbleau, Al Smith from American Babies and others.
Rock Your Life Mentorship is starting in November and our first mentor is photographer Jay Blakesberg. If you love live music and have seen photos from shows and festivals, chances are most of the really great ones came from Jay. He's photographed everyone from the Grateful Dead to Paul Simon to Dave Matthews and everyone in between. His newest book (which I'm featured in) is called Hippie Chick: a Tale of Love, Devotion and Surrender.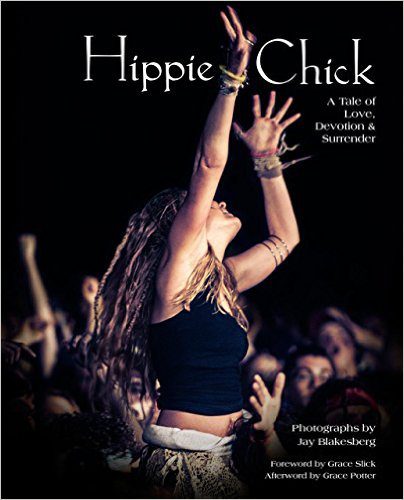 It is a fine art, hardcover coffee table book. Featuring 445 images shot over the past three decades, Hippie Chick celebrates the unique connection between the vibrant community of free-spirited women who are inspired by, and help inspire, live music. Blakesberg's visual anthropology beautifully captures the feminine festival and concert archetypes, and the individuals, who have graced the fields and performance halls of America since 1980. Earth mamas and fairy princesses, hula hoopers and whirling dervishes, front row regulars and flower crown makers; the entire tribe of dedicated, music-loving women―their fashion and their passion―is sensuously brought to life through Blakesberg's artful lens.
Iconic rocker and pioneering hippie chick Grace Slick (Jefferson Airplane) provides the book's Foreword, offering a retrospective of women in the original hippie-era music scene. In the Afterword, modern-day hippie chick and freewheeling frontwoman Grace Potter considers how women today carry on the legacy of the demographic. Freelance journalist Edith Johnson contributes the book's Introduction and chapter essays, entitled "Love," "Devotion," and "Surrender." During the preparation of Hippie Chick, Johnson interviewed 81 different women from the live music scene. Their colorful anecdotes have been distilled into a series of quotes selected to accompany Blakesberg's images, bringing further dimension to the book's overarching theme of what it means to be a hippie chick.
The reason I picked Jay and why I think he's so amazing is that he took something he's a genius at (photography) and something he loves (rock-n-roll) and created a lucrative career for himself. There is so much that I can learn from Jay and I'm looking forward to picking his brain along with everyone else who joins my mentorship.
If you are interested in joining I have an unlimited amount of GA tickets and a small limited amount of VIP and ALL Access passes. Fill out this application and we'll set up a mini magical musing session to chat all about it. 
I look forward to connecting with you.
The awesome in me sees and bows to the awesome in you,