Life can suck big fat monkey balls or life can be magic. Although the thought of big fat monkey balls makes me laugh, I would much rather live a life where magic and miracles are the norm. This weekend I co-hosted the Soul Tribe Retreat at Stowe Mountain Ranch in Vermont with my soul sisters Richele, Cora, and Suzanne.
A common theme that kept on popping up throughout the weekend was finding magic in the mundane. So many of us (me included) wait for the universe to prove to us that it supports us (show us a sign dude) before we fully surrender and trust. It would be cool if the universe worked the way we wanted it to, but it doesn't.  It's important to open your eyes and to fully surrender into the magic and miracles the universe is showing us every day all the time.  Like now. And now. And now!
Cora, Richele, Suzanne and I had been looking for the perfect space to hold our retreat. Out of the "blue" I remembered a retreat site I had visited a couple of years ago in Stowe, Vermont. I sent a message to the owner with the dates we could do and bam! The only dates they had available for the entire year was the weekend we wanted.  That's so normal! (That's what we say when something is "crazy" or majorly synchronistic because it's actually not crazy. It's awesome and we are grateful, but it's totally normal.)
At the retreat we all experienced so many normal things it was well, normal.
One woman had a life long dream about connecting heart to heart with horses. We didn't know about the yoga with horses program the retreat center offered and when we got there, the owner  felt a strong calling to offer the program as an addition to what we had planned. We felt a strong yes to that offer and I'm so grateful we did.  This allowed the woman the opportunity to run with a horse through a forest, ride bareback to a magical waterfall and to spend time grooming and bonding with the horses at the ranch.  Totally normal.
The day of the retreat Cora, Suzanne, Richele and I were walking when I looked up and saw the most amazing cloud I've ever seen. It looked like a rainbow feather. Check it out!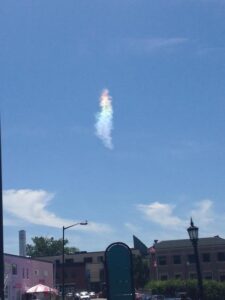 Feathers kept on showing up in magical ways throughout the retreat. One woman was going for a solo morning walk in the woods which was completely out of her comfort zone. She was thinking that as a shy person how hard being at this retreat was for her. She was challenged to push herself and to speak her truth. All of a sudden she realized that because of all the sharing she felt so much lighter. She looked down and a black crow feather was inches from her foot.  Totally normal.
I challenge you to surrender to the magic and miracles the universe is constantly showing you everyday all the time. I challenge you to change your language when it happens (because it will) from, "Woah! That was crazy" to "Wow! That was totally normal!"
Life is totally normal! <<<<<Tweet if you agree
Here are some totally normal photos from the Soul Tribe Retreat.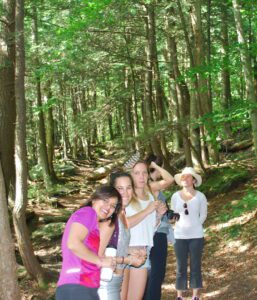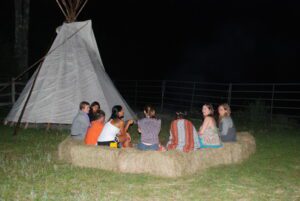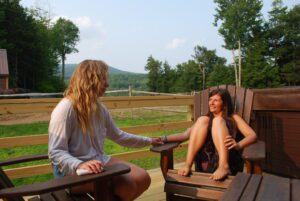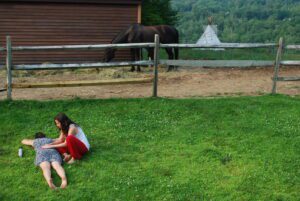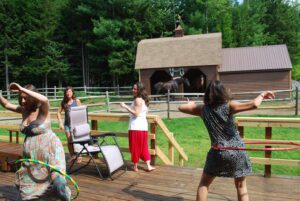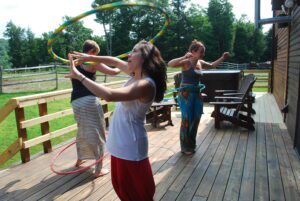 It will be so normal to see you at the next one:)

The totally normal in me sees and bows to the totally normal in you.