Everyone who registers for this FREE tele-party will be entered to win 2 FREE tickets to Gathering of the Vibes

Every Dream Requires a Dream Team.
Who's on yours?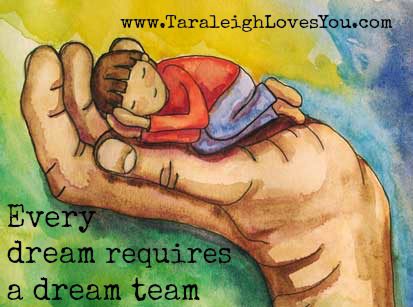 Humans need accountability. It's the reason we pay people to be our personal trainers and health coaches. When you know someone is going to check in with you to see how you are doing with a goal, you are more likely to take action because you "don't want to get in trouble." I have many sources of accountability.
To keep me accountable while writing my book I enlisted a writing buddy. She kept me on top of my deadlines and gave me ideas when I had writer's block.  For example, when I was writing the outline for my book, I was having trouble and felt it sucked. I got mad at it and was angry.  My book is a guidebook for joy so it was kind of ironic I felt angry the first couple of stabs at my outline.  My buddy suggested I dance while writing it.  I came up with a twelve song playlist (one song for each chapter) and started dancing.  I had the entire thing written within three songs and it was awesome!  I owe that all to my writing buddy. (Love you Morella Devost!)
I have a mastermind group of  lady entrepreneurs I meet with over the phone every Monday. We hold each other accountable as well as offer listening ears and a safe space to talk about what's going on…the good, the bad and the ugly.
I email my to-do list to a friend each morning and again in the afternoon.  If I don't do something on my list I have to explain why I didn't do it and then create action steps to get it done the next day.
You don't have to do everything alone. There is a reason for the saying, "It takes a village."
Oprah has a village.
Phish has a village.
Lady Gaga has a village.
Louise Hay has a village.
The President has a village.
You need a village too.  We all do.
Making your dreams a reality takes a dream team.
Who is on your team?
Join the conversation.

It's FREE!